Campus car wash drives new jobs into Manchester
01 Nov 2012
The University of Manchester has teamed up with Rochdale-based charity Petrus to launch a car cleaning company on campus to help disadvantaged people into work.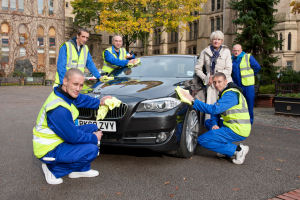 UniValet launched earlier today, and this unique social enterprise will provide paid on-the-job training for local people who have been without a job for some time or who may have never worked.

Whilst working for UniValet, a not-for-profit company, they will also attend The Works, a training and advice centre set up by the University with sites in Moss Side and Ardwick, to help them find long-term employment.

The University's Assistant HR Director Steve Grant said: "UniValet is the first in a number of programmes that the University is developing in support of the Greater Manchester Commitment to Youth Employment. For many of the people who join this training programme it will be a step on to the first rung of the jobs ladder.

"This is not simply training people to clean cars; we are training them to go to work.  We're giving unemployed people in Greater Manchester the opportunity to learn about customer services, team work and punctuality and all of the other skills and attributes employers expect. Job-seekers without this kind of basic experience face real barriers getting into work."

Denis Skelton from Petrus Social Enterprise said: "We are delighted to be working with The University of Manchester on this pilot project. They are the only university in the country tackling the issue of long-term unemployment in this unique way. 

"During their time at the University, the people working for UniValet will be trained to Level Two NVQ equipping them with excellent transferrable skills."

UniValet's Team Leader Darren Vickers, who was homeless and out of work for 18 months before seeking help from Petrus, said: "We're all very excited about this new initiative and it's great to see somewhere like The University of Manchester opening its doors to support local people in this way.

"Hopefully, this scheme will really take off, and then expand to include other big employers across the city."

UniValet's services will be available to members of staff at the University who will use an online booking system to have their vehicles cleaned whilst at work, with prices starting from £10.

The UniValet team will use an environmentally-friendly waterless system and will operate a wash and wax service in the University's car parks across the campus. 

Nicola Burns from The Works said: "This scheme provides employment and training for long-term unemployed people, with any profits going straight back into other similar initiatives."

"Staff will be employed initially on three-month contracts, but the Works will support them to make sure that that the skills and experience they acquire on the programme help them to move in to long-term jobs."
Notes for editors
The University of Manchester has a rich and proud heritage dating back to 1824. It is the birthplace of many discoveries which have had a major impact on society including the development of the first modern computer and the splitting of the atom by Rutherford. 25 Nobel Laureates have worked at the University, with three currently on its staff. As a major employer, the University is committed to working with local communities to create employment opportunities.
Petrus is a registered charity and company limited by guarantee, which has been providing supported housing and related services to homeless people since 1972. It believes people should have access to safe, secure, quality housing, and exists to support a wide range of people in housing need and develop their skills, independence and choice.

The Works is an employer-led one-stop-shop supporting local people to find jobs, develop skills and access training courses and financial advice. The Works is a partnership between The University of Manchester and Work Solutions.

Greater Manchester's Commitment to Youth Employment is supported by the region's ten local authorities through its governing body – the Greater Manchester Combined Authority (GMCA).  It is in addition to the apprenticeships, training and employment schemes that are already being delivered by these areas at a local level.