Lenox is named Manchester Champion at city awards ceremony
08 Feb 2013
Lenox Green from The University of Manchester has been named Manchester Champion at an event to celebrate the best of the city's young talent.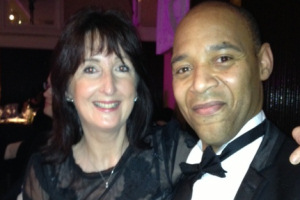 Lenox, a postgraduate office administrator in the School of Mathematics, scooped the award at a black tie bash held at the Midland Hotel last night.

Lenox (pictured with wife Heather at the ceremony) was delighted to be recognised at the inaugural Made in Manchester Awards.  He said: "I would like to thank Lindsay Gilbert, Head of Volunteering and Community Engagement, for nominating me for the 2013 Manchester Champion category.  And I appreciate all the support the Rainbow Christian Centre has received from the University of Manchester and the School of Mathematics."

He added: "It's a privilege to work in an organisation that is genuinely committed to social engagement."

Lenox and Heather have spent six evenings a week for the past decade helping young people have fun in a safe environment, get good advice on a range of issues and achieve their potential. He even remortgaged his house to set up a children's centre in Hulme.

Last year, Lenox was recognised at the University's Social Responsibility and Volunteer of the Year Awards, an event which celebrates the amazing staff, students and alumni who go the extra mile for those less fortunate.
Lenox started in his teens by helping with youth projects, summer camps and soup runs in China Town, then progressed to inviting homeless people round for meals. Then, 20 years ago, when he met and married Heather, they started running a drugs rehab centre from their home, as well as supporting recovering addicts in rehab centres and youth hostels.
They opened the Rainbow Christian Centre in 2003 to help addicts but, after speaking with locals, focused their attention on preventing addiction and the associated behaviour that led to it. Available 24 hours a day – Lenox has only taken one five-day holiday in 20 years – their projects include a gym for adults, youth groups, food handouts, Saturday social events, prison visiting, court appearances, family liaison and advice on housing, benefits, education, apprenticeships and debt. And in August of each year, he takes a week off work to run a play scheme.
Notes for editors
Contact Jon Keighren, Media Relations Manager, The University of Manchester 0161 275 8384