TV stars team up with Students' Union for Comic Relief Treasure Hunt
27 Feb 2013
This Friday the cast of Channel Four's hit comedy Fresh Meat will pit their wits against students at The University of Manchester in a fast-paced treasure hunt to raise money for Comic Relief.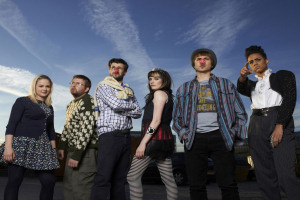 In just one day, the cast will travel to seven universities up and down the UK on the Comic Relief 'banter bus', raising as much money as they can at each university and completing a different challenge at every stop along the way.
The University of Manchester Students' Union is recruiting teams of up to four people to enter a treasure hunt, which is open to non students and costs £10 per team to enter.
A head start will be given to the team that raises the most amount of money beforehand, and the winning team will get to meet the cast and win Fresh Meat goodies.
Fresh Meat star and stand up comedian Jack Whitehall studied at Manchester and says he can't wait to return:  "It's going to be great travelling to all the different universities I didn't get into when I applied through UCAS! 

"Some of the best parts about being a student are the ridiculous things you end up doing, so come and join us on Friday 1st March at The University of Manchester Students' Union and help an amazing cause at the same time."
The treasure hunt is being organised by Comic Relief and Manchester RAG, the fundraising arm of the Students' Union. All profits raised will go to Comic Relief. For further information and to enter, visit www.manchesterstudentsunion.com/freshmeat 
Notes for editors
Jon Keighren, Media Relations Manager, The University of Mancyhester 0161 275 8384
Nancy Hopkins, Assistant Communications Manager nancy.hopkins@manchester.ac.uk or 0161 275 2965

Image courtesy of Objective Productions

·         The treasure hunt will take place at 3pm on Friday 1 March
·         The University of Manchester Students' Union is the largest Students' Union in the country serving around 40,000 students.
·         Manchester RAG (Raise And Give) is the fundraising arm of the Students' Union. In 2011 RAG raised over £470,000 for charitable causes in the UK and abroad.
·         Red Nose Day 2013 is heading your way on Friday March 15.
·         Comic Relief was launched on Christmas Day 1985, live on BBC One.  At that time, a devastating famine was crippling Ethiopia and something had to be done.  That something was Comic Relief.  The idea was simple – Comic Relief would make the public laugh while they raised money to help people in desperate need.  Before too long, Red Nose Day was created and the first ever event in 1988 raised a staggering £15m. 
·         This year, 2013, marks the 25th anniversary of Red Nose Day which has raised over £600m and helped to change lives both in the UK and Africa.
·         Comic Relief, registered charity 326568 (England/Wales); SC039730 (Scotland)