Since its inception in 2011, The Works has helped more than 3,800 local people into jobs at the University or across Greater Manchester. Two previously homeless people – Frezghi Teklemichael and John Jackson – have now made the most of the opportunities on offer and entirely transformed their lives.
Located in Moss Side, but with its roots at the University, The Works is one of the only initiatives of its kind in higher education – and one of only a handful in any sector.
An employer-led, one-stop shop, it supports people from Greater Manchester to find jobs, develop their skills and access courses, financial advice and employment services.
And for two people who were previously homeless, the invaluable support they received has led to employment at the University.
Transformational journeys
Frezghi Teklemichael came to the UK as an asylum seeker from Eritrea where he had been a teacher. Having successfully applied for asylum, he became homeless when financial aid from the National Asylum Support Service ended.
Living in a hostel and unemployed for three and a half years, Frezghi was referred to The Works. He was enrolled on a pre-recruitment training programme designed to equip people with vocational skills and qualifications.
Now employed as a building attendant, Frezghi says: "The University is a great place to work and I've been made to feel very welcome.
"I'm developing new skills and beginning to focus on my long-term career goals here in the UK. It's good to be in work and contributing to my new country."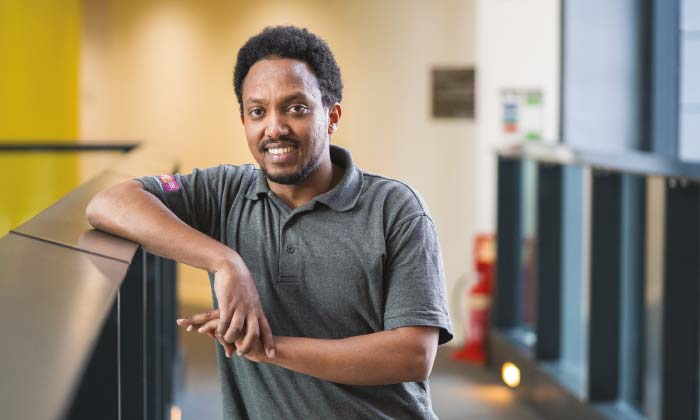 The University not only gave me training with a job at the end. It is actually going to change my life
John Jackson had been unemployed for more than a year and was living in the homeless tent community in Manchester. Working with the charity Depaul UK, he has made amazing progress in turning his life around.
The Works, he says, gave him the confidence to re-engage with the world of work. Like Frezghi, John is now a building attendant at the University and he's proud that he's able to support himself and his partner. "The University not only gave me training with a job at the end. It is actually going to change my life," he says.
A pledge to act
In 2016, the University pledged its support for the Manchester Homelessness Charter, which calls for those who have adopted it to make a pledge to take action. A component of the University's pledge is to support organisations directly concerned with addressing homelessness to develop pathways into employment.
Ready for Work's Chris Gopal, who chairs the Manchester Homelessness Charter Employment Action Group, says partnerships such as these are "key to the development of pathways into work, allowing people to stabilise their lives and become active, fulfilled members of society".
Since setting up The Works six years ago, the University's Assistant Director of Human Resources, Steve Grant, has been instrumental in its success. The scheme has attracted national recognition, including a Guardian Sustainable Business Award and a Times Higher Education Award, while Steve himself was awarded an MBE for services to unemployed people in Greater Manchester earlier this year.
He said: "The achievements of Frezghi and John illustrate that, with support, it is possible for people who have experienced homelessness and other barriers to address the challenges they have faced and carve a new path for themselves.
"I believe employers in all sectors across Greater Manchester have a key role to play in addressing homelessness and other barriers which prevent people from realising their full potential."