A first-of-its-kind pop archive has launched in Manchester, bringing with it extraordinary objects from the popular culture canon and boundless opportunities for research and teaching.
The iconic music, television and events that put Manchester on the global cultural map in post-war Britain are being immortalised in a unique and historic archive. The British Pop Archive (BPA) launched in May 2022 at its home, the renowned John Rylands Research Institute and Library, with a temporary exhibition at the cultural attraction on Deansgate.
Professor Hannah Barker, Director of the Institute, curated the archive along with independent curator Mat Bancroft and music journalist and broadcaster Jon Savage, the University's first Professor of Pop Culture.
Shining a light on iconic pop culture
Comprised of ten archives relating to iconic pop culture moments, both for Manchester and the wider world, the BPA holds artefacts relating to the heydays of New Order, Joy Division, The Smiths, Factory Records and the iconic Haçienda. The complete archives of Joy Division lyricist Ian Curtis and electronic composer Delia Derbyshire are contained within the collection, along with the Granada TV Archive. With it comes some of Britain's best-loved and most groundbreaking moments in broadcasting history, including the archives of Coronation Street and World in Action.
Other highlights include records and recordings, promotional materials for gigs, posters, merchandise, hand-written lyrics, personal and business correspondence, recorded interviews and many more fragments of popular culture.
Born from collaboration
Professors Barker and Savage bonded over their shared interest in popular culture archives and how they impact the lives of ordinary people. Together with Bancroft, Savage's long-term collaborator, the project began to grow and evolve.
"Despite being quite different individuals, we gelled instantly," Barker recalls. "As a social and business historian, I'm fascinated by archival materials relating to the cultural and creative industries, and to outputs such as music, television and film that impact so powerfully on people's lives.
"What made me pursue this joint endeavour was the understanding that this archival collection would fit neatly with the work of colleagues at the University working on the cultural and creative worlds, centred around Creative Manchester. There was a real opportunity to build a new archive which would link and support not just current research, but also future research trajectories."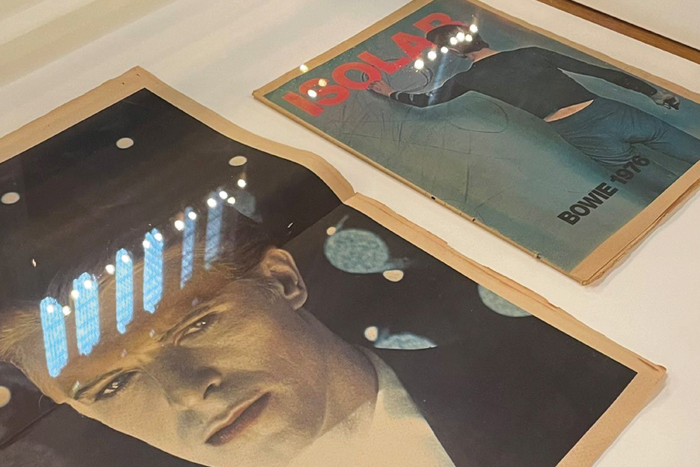 A hub of creativity
Creative Manchester, one of the University's platforms for collaborative research, will amplify the work emerging from the archive.
"Manchester has been a hub for creative industries for decades. A place where artists forged new sounds and were supported by inventive businesses and listeners," says Professor John McAuliffe, Creative Manchester Director. "Creative Manchester co-ordinates research, allowing us to see this work in new ways. The archive, and the stories it tells, offers a backstory to music we know well, and is an inspiration for new work too."
As a modern archive, the BPA, along with the Humanitarians Archive led by the Humanitarian and Conflict Response Institute (HCRI), serves to future-proof the University Library's special collections. Professor Chris Pressler, University Librarian, champions both projects for helping to keep the library in tune with research and teaching needs: "While we continue to work on materials from 5,000 years of human history, it is critical that we also engage with our own time."
Creating a national culture resource
As a research-led institute, the BPA is an important addition for the University. Its influence, however, extends much further, Savage reflects. "Britain's pop and youth culture has been transmitted worldwide for nearly 60 years now. As the most fertile and expressive product of post-war democratic consumerism, it has an inspiring history that's in danger of being under-represented in museums and libraries. We are launching with Manchester-centric collections, but the intention is for the BPA to be a national resource. It is, after all, the British Pop Archive."
Making an impact
The buzz surrounding the BPA launch has been hard to ignore, with coverage across national and local media including The Guardian, The Manchester Evening News and The Times, as well as bulletins on BBC News, ITV News and BBC Radio Manchester.
"The press coverage we've had has been amazing and the launch event at the Rylands went brilliantly," says Barker. "It's been really exciting to see the launch archive take shape and to plan future acquisitions and possible directions."
There's an exciting future within teaching and learning too, with the Professor of Pop Culture forging new paths. A new MA in Creative and Cultural Industries is to be launched within the School of Arts, Languages and Cultures. There are also existing courses exploring popular and electronic music and composition, and those dedicated to screenwriting that will be able to take advantage of the archive.
The BPA exhibition is open to the public and will run until 15 January 2023. Barker and the team welcome all enquiries from individuals or organisations that wish to support the BPA and help preserve and research more of the UK's unique cultural and creative history.