Since 2011, The University of Manchester has helped more than 4,000 local people find work via its skills and employment facility, The Works. As it moves into bigger premises to meet demand across Greater Manchester, here are just a couple of examples of how these opportunities are changing lives.
The University is one of the largest employers in the Greater Manchester region with more than 12,000 staff. For Patrick Johnson, Head of Equality, Diversity and Inclusion at the University, this gives the institution a real chance to make a difference.
"We want to integrate with the community in a meaningful way to create opportunities and have a positive impact," he reflects.
"As we embarked on our masterplan to develop our campus, we saw that there was an opportunity to engage the region's major employers."
For the past nine years, the University has sought to do this through The Works, an award-winning initiative that has transformed the lives of more than 4,000 residents through access to career advice and job-matching. Originally located in Moss Side, the facility has recently relocated to a much larger building close in nearby Ardwick as it seeks to increase the training and opportunities it offers to the region.
"The Works has achieved amazing results, bringing local people on board to work at the institution," says Patrick.
New opportunities
Daniel Davidson, from Hulme, was actively looking for work as a labourer when he went to a construction careers fair organised by The Works.
"I'd been dealing with the job centre for a few months and found it disheartening," Daniel shares. "Despite having my Construction Skills Certification Scheme (CSCS) card, none of the opportunities followed through."
The Works was different. At the fair, Daniel impressed Munnelly Support Services, a construction solutions firm, securing an interview the next day, followed by a job offer on site at the Manchester Engineering Campus Development – one of the single largest construction projects undertaken by any higher education institution in the UK.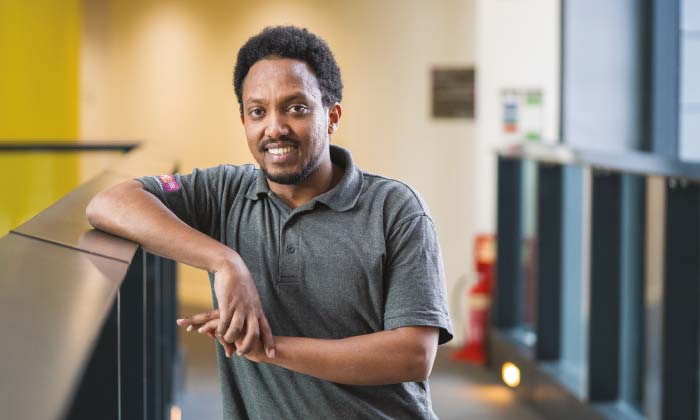 It genuinely felt like the Works wanted to help. To be honest, they breathed a bit of life back into me and motivated me to do something with my life.
Breaking down barriers
Qualifications can be a barrier for anyone with designs on a career in construction.
"I prefer practical kinds of jobs and had always thought about working in construction," says Javier Hull, who wanted a change from his career in sales. "I didn't have a CSCS card or the means to fund one myself, so I had always discounted it as an option."
Then he discovered The Construction Skills Academy, a skills programme delivered by The Works on behalf of the Construction Industry Training Board. The Academy delivers week-long training courses preparing candidates for the industry.
"Before I started at the Academy, I had no idea how much you needed to know to work in construction," says Javier. "But the course leader talked us through everything, from health and safety to interviews."
Javier was offered a job as soon as he qualified in summer 2019. To date, more than 180 people from local communities have completed the training course – nearly half have held jobs in construction for at least three months after.
Foundations built to last
"When you're out of work, you just need someone to believe in you and give you a chance," says Daniel.
"It genuinely felt like the Works wanted to help. To be honest, they breathed a bit of life back into me and motivated me to do something with my life."