At home, Dr Philip and Professor Emma Crosbie are just like any other husband and wife juggling the family duties. At work, they are clinical academics who are transforming outcomes for patients with cancer.
On a chilly autumn day on campus, Emma and Philip Crosbie greet us warmly after travelling from the home they share. They are united by marriage but also by their calling at Manchester to help tackle the challenge of cancer.
A true power couple in cancer research, the Crosbies are shifting the focus of how lung and womb cancers can be detected, leading to improvements in outcomes for patients.
Scans in vans
Phil's work has already made national headlines. As an early-detection specialist, Phil's interest in lung cancer was sparked when working in respiratory medicine and realising the enormity of the disease. To help tackle the problem, Phil helped set up the Macmillan Cancer Support funded mobile Lung Health Check pilot with colleagues in the Lung Cancer Team at Wythenshawe Hospital.
Phil says: "Lung cancer is a deadly cancer as diagnosis usually comes too late. What we showed is targeted community-based programmes can engage those most at risk and detect a higher proportion of curable early-stage lung cancers, completely transforming outcomes and saving lives."
These mobile lung screening units were taken to supermarket car parks in economically deprived areas of Manchester to target those populations most at risk. This resulted in a much higher rate of early lung cancer detection. The success of the Manchester pilot has resulted in an expanded service locally and £70 million funding from NHS England to test the pilots at ten sites across the country, potentially paving the way for a national lung cancer screening programme.
Phil's research is focused on meeting a real need. "In Manchester we have more smokers than the UK average and lung cancer is the single biggest cause of premature death," he explains. "We needed to do something to reduce the impact of smoking and lung cancer in our local communities and this approach may help us achieve that."
Not content with improving survivorship, Phil is now collaborating with Cancer Research UK to see whether implementing cutting-edge biomarkers, as part of lung cancer screening programmes, can lead to better and faster diagnostics.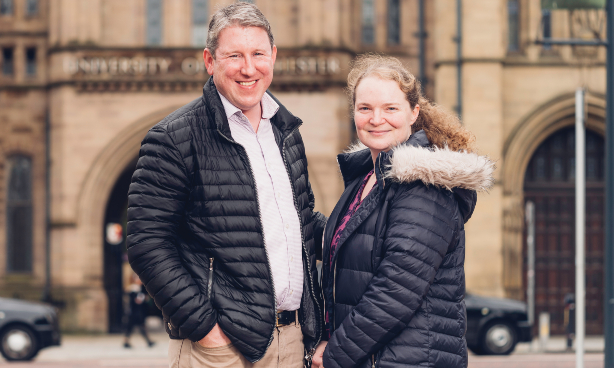 Lynch syndrome
Early detection is central to Emma's work too. She's a gynaecological oncologist and lead for early detection within the Cancer Prevention and Early Detection theme at the National Institute for Health Research's Manchester Biomedical Research Centre.
"Essentially, I'm trying to detect gynaecological cancers at their earliest treatable stage, when it's more likely that treatment will be curative," says Emma.
Almost 3% of womb cancers are linked to an inherited cancer predisposition condition, Lynch syndrome, which affects 1 in 300 people globally.
A similar proportion of bowel cancers are caused by Lynch syndrome, which led to guidance from the National Institute for Health and Care Excellence (NICE) that anyone diagnosed with bowel cancer should be tested for the condition. While this link is well established, the link with womb cancers is less well studied.
In partnership with Professor Gareth Evans, Emma led the first prospective UK study to determine the prevalence of Lynch syndrome in 500 women newly diagnosed with womb cancer.
Recommendations have now been sent to NICE for extending current guidance on Lynch syndrome testing. In addition, because womb cancer usually comes first, it is likely be the first indication of a patient having Lynch syndrome and therefore being at risk of developing bowel cancer.
Emma says: "The link between Lynch syndrome and womb cancer presents a real opportunity to improve outcomes for patients – but it's an opportunity that is being missed because we just don't test for it consistently."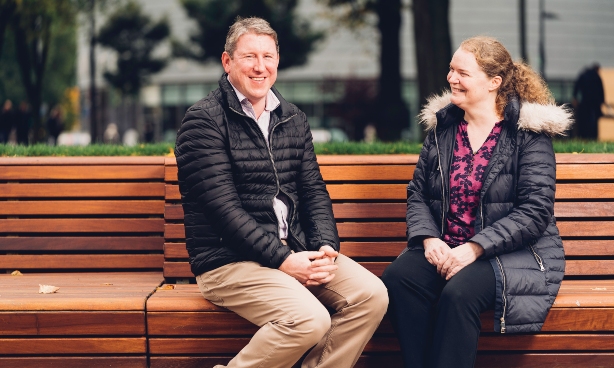 We're both very driven so it could easily become all about work, but family life doesn't let that happen.
An unlikely pairing
Meeting as students at the University of Edinburgh Medical School, cancer research was never the intention for the pair. "There was never a big plan to work in cancer," Emma explains. "I was an obstetrician gynaecologist but I then did a PhD in gynaecological cancer and enjoyed it. It was a natural evolution in interest."
For Phil, the journey began when learning more about the diagnostics of lung cancer. He says: "I became overwhelmed by how common, yet fatal, lung cancer is but how little was being done to further early diagnosis and screening, which could ultimately save lives."
Making it all work
With similar research interests, it must be difficult for the pair to switch gears when returning home. Emma admits this is a challenge, but the realities of family life help them to refocus.
"We talk about work all the time at home, when we're making tea or helping the kids with homework. We have a debrief and the occasional grumble but we also sense-check our ideas with each other," explains Emma.
"We're both driven so it could easily become all about work, but family life doesn't let that happen. We're brought back to reality because someone needs to collect a child from school or take one to an after school club."
Emma jokes that "meticulous diary planning" is key, with a meeting booked in every Sunday to plan the week. "We have to perfectly map when each of us can do clinical and academic jobs, and be on calls, while making sure that someone is free to do school drop-offs and pick-ups, help with homework, make the tea, walk the dog etc."
It sounds like this power couple have got the balance just about right.