I had to travel so far for the women's toilets," laughs Ella Podmore (MEng Materials Engineering, 2018), as she recalls one of her first days in University labs.
Even her professor didn't know where they were. "I had to go up three floors, whereas the men's toilets were right next to the lab."
Coming from an all-girls school, it was the first time Ella – now Senior Materials Engineer at McLaren Automotive – had come face-to-face with the gender disparity in engineering.
From graphene to netball
Ella's Manchester story began with graphene. One atom thick but 200 times stronger than steel, the wonder material was first isolated at the University by Sirs Andre Geim and Kostya Novoselov in 2004.
"Graphene was a huge factor for me [in choosing Manchester]. It was all over the news when I was growing up.
"At school I thought, if I study Material Sciences at Manchester, I would be next door to where they isolated that wonderful material. It's where things are happening."
Ella was also attracted to Manchester for its sporting opportunities, but admits it was a close call between the University and Loughborough. She knew she'd made the right decision when the Manchester netball team played its rivals a few weeks after she joined: "We absolutely smashed them and it felt like all the stars had aligned."
The only woman in the room
After joining the University and experiencing the gender imbalance of Material Sciences first-hand, Ella realised that to stand out she needed to embrace her difference:
"I figured that being different to everybody else would make me memorable. Professors would know my name and it would encourage me a little bit more."
She carried this attitude through into her working life, joining McLaren as an intern in 2016 while studying for her master's, before taking up a permanent position two years later.
Flash forward five years and Ella is now responsible for all materials-related investigations on McLaren's luxury supercars. Her experiments focus on how to make the materials lighter and the cars faster.
"There's a very masculine energy around owning a supercar. When I got to McLaren, I was the only woman in the room.
"But that opened doors for me. I was working on incredible projects, but I didn't see many women. I decided I had to go back to my old school and tell the girls that these opportunities are out there.
"And when I started representing the company in schools, McLaren saw the advantages of the outreach work."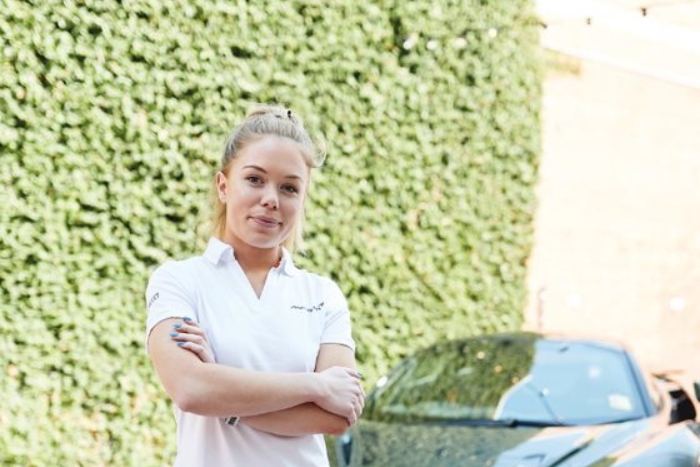 Inspiring the next generation
Ella's outreach work saw her receive an MBE from the current Prince of Wales in 2023, making her one of the youngest University alumnae ever to be named in the Queen's honours list.
"I'm so passionate about inspiring kids to study science", she explains, "but I notice a significant change of heart when children go from primary to secondary school.
"When young girls are eight or nine, they'll say 'I want to be an astronaut'.
"But when they go to secondary school, they say they want to be big on YouTube."
Despite the challenges of engaging the next generation in engineering, Ella uses her position – and the fact she works with flashy supercars – to give an insight into what the industry has to offer.
"Seeing someone who has painted nails and wears heels working at somewhere like McLaren shows them that they don't have to change who they are to fit in."
Two girls in the first year of their Materials Science and Engineering degrees came up to me and said, 'You spoke to us at a lecture in London three years ago. You changed our minds and now we're studying at Manchester.'
Making an impact
Back in 2015, Ella was working on applications for her placement year when she saw the McLaren P1 poster on her bedroom wall and decided to ask them if she could do it there.
McLaren called back. But while her course mates could work in existing materials divisions, McLaren didn't have one. Her University supervisors encouraged her to go for it anyway.
"It allowed me to go and make it on my own. Most students have a rigid programme that they've got to follow – but Manchester let me do my own thing."
At the end of the 12 months, Ella made another bold move. After identifying a problem McLaren was having with corrosion, she asked it to create a permanent role for her if she could solve it in her final year at University.
One year later, McLaren didn't just give Ella a job – they created an entire Materials Engineering Department for her.
The future is electric
The electrification of supercars creates huge challenges for Ella, as well as some exciting opportunities to diversify the workforce.
"We create some of the lightest cars in the world. Making them electric means introducing heavy batteries and software systems, so we must make a very light supercar even lighter.
"There are things you wouldn't even consider thinking of, like paint – which is very heavy on a car."
The movement towards electric also creates opportunities to widen the talent pool at McLaren. The cars are "effectively big computers", says Ella, giving software engineers or coders the chance to get involved.
"Coding became 'sexy' a few years ago, so now we have a more diverse workforce in software – not just in terms of male and female, but ethnicity too."
Bringing it back to Manchester
Four years after graduating, Ella visited the University's new Engineering Buildings A and B – part of our £1 billion Campus Masterplan – for the first time to talk to students about her career, with a McLaren supercar in tow.
"I drove into that building and all the students were lined up filming me. I felt like a celebrity," she reflects.
A hub for engineering and materials expertise, the buildings combine the city's industrial heritage with new, purpose-built facilities – the perfect environment for creating solutions to some of the world's biggest challenges. And, importantly, there are women's toilets on every floor.
But the most memorable moment came after her talk.
"Two girls in the first year of their Materials Science and Engineering degrees came up to me and said, 'You spoke to us at a lecture in London three years ago. You changed our minds and now we're studying at Manchester.'
"We were standing there in this incredible building, and I was welling up. It was such a moment. It felt like I'd come full circle.
"And on the way home, I told my mum I'd had the best moment of my life."
It was proof for Ella that her words make a real difference.