The University of Manchester's graduates are the most sought after by top UK employers (The Graduate Market, 2023).
This is down to a combination of academic achievement and embodiment of the University's values, which help them enter the job market as responsible leaders, ready to make a valuable contribution to the community.
Transforming care for local patients
Adam Mellor is a nurse working on a surgical assessment ward at Stepping Hill Hospital in Stockport. He is one of more than 2,600 healthcare-related graduates currently working across Greater Manchester's hospitals and NHS trusts.
The University has such an enormous impact, not just here in Manchester, but globally, and I knew I wanted to be part of that from the moment I attended the induction day.
Adam always wanted to dedicate his career to caring for others, but credits the University with giving him the knowledge and practical skills necessary for what, especially in recent years, has been a challenging vocation.
Having grown up in Manchester, Adam wants to use his position to ensure the people of his beloved home city have access to the very best healthcare services. For him, making an impact is in the small details, the patient care that goes above and beyond, and getting people settled back home as quickly and safely as possible: "Seeing a patient ready for discharge, with pure excitement on their face, is such a fulfilling feeling."
During the COVID-19 pandemic, hospitals and institutions like The University of Manchester came together to fill the shortfall of key healthcare professionals, take the pressure off frontline teams and give patients the best care possible. Adam reflects on how his degree helped him prepare, with the "fantastic range of workshops and courses" provided throughout his studies arming him "with so much practical experience that you can apply to real-life scenarios".
For Adam, and others like him working across our region's hospitals, making an impact means much more than turning up for work every day. It's making a positive difference in a patient's life and helping them achieve their goals for a healthier future.
It's not only through our graduates that the University is making an impact. Locally, partnerships with NHS trusts in Health Innovation Manchester and the Manchester Academic Health Science Centre are boosting positive outcomes in the region. Globally, our research creates healthier populations by establishing new treatments for global diseases.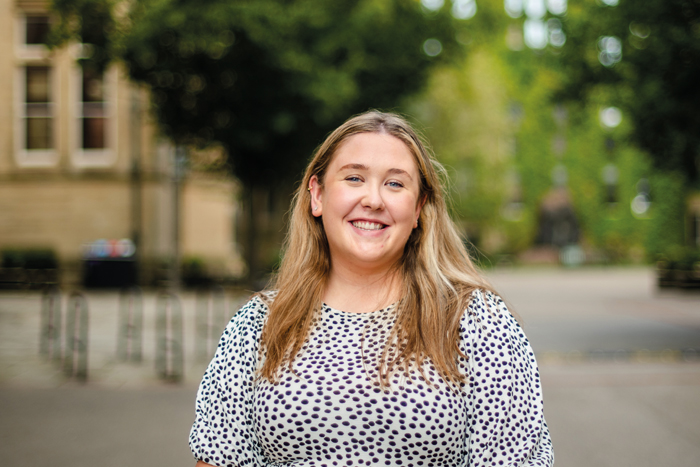 Nurturing the leaders of tomorrow
Julia Morton, a PGCE secondary teaching graduate, is dedicating her career to inspiring the minds of the future through innovative and inclusive learning. She believes teaching is a great way to affect meaningful change in society, and alongside the University, is working hard to combat the increase in social inequalities amplified by the pandemic. Julia says: "There's a real passion and discussion within society about social mobility, and where opportunities start for young people."
The Manchester spirit is to push yourself, embrace challenges and jump out of your comfort zone. If you can do that, you really will succeed.
As a history teacher, Julia believes it is important to ensure the education she provides is socially and culturally inclusive – imparting knowledge, skills and language that are accessible to everyone. She likes to open up conversations for students around why we teach certain subjects in school. One such example is the British Empire, for which she made sure students from different backgrounds, including those of Indian heritage, felt included in the discussion and could openly share their views on the impact of the British Raj in India.
She also dedicates time to working with the University's Ahmed Iqbal Ullah RACE Centre – a specialist library focusing on the study of race, migration and ethnic diversity – to look at ways to decolonise the history curriculum and help fellow teachers broaden their understanding of how to deal with race relations in schools.
Julia credits the University with her determination to make a difference: "Being part of the trainee teacher programme at Manchester has shaped who I am and who I will become in the future."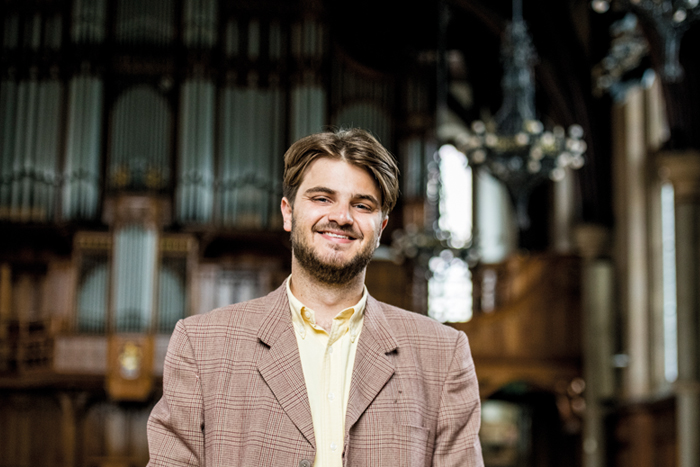 The University has helped me to gain contacts from an industry that I never thought I'd be interested in and has truly provided a platform on which I can succeed.
Supporting a greener future
Matt Petinaud's interest in the natural world started in childhood. Since then, with help from the University, he has turned this passion into a fulfilling career. His studies in Environmental Science gave him the knowledge and skills to help tackle climate change in his everyday work.
During his studies, Matt won a summer internship at BP through the University's connections with key industry partners. His time in their Environmental Department gave him practical experience in drawing up risk assessment and environmental best-practice tools for the future of energy generation.
Now a Carbon and Energy Consultant, Matt is excited about the positive impact he and those working in his field are making on things we often take for granted, such as air quality. Currently, he works with manufacturers to quantify energy usage and the associated carbon footprint – helping to reduce emissions in the short and long term. He says: "Climate change is a major problem and it requires international collaboration, so for me to be able to contribute to that in any way is incredibly rewarding."
Manchester's research and teaching impact
The University is committed to creating fairer, healthier and more sustainable futures and was again confirmed to be a global powerhouse of research, with 93% of its activity assessed as 'world-leading' (4*) or 'internationally excellent' (3*) in the Research Excellence Framework (REF) 2021.
Our research power enhances the quality of our innovative teaching, giving students the chance to learn from real experts. We go beyond academia, offering opportunities to develop key skills outside of core courses, including initiatives like Stellify and our Manchester Leadership Programme – giving graduates the tools to contribute to society's greatest challenges as global citizens.