Professor Graham Lord, the new Dean in the University's Faculty of Biology, Medicine and Health, joins at a time of renewed focus in these disciplines and of unprecedented opportunity for the region. Does it feel new? Yes. But it also feels like he's coming home.
Professor Graham Lord smiles in nostalgic reverie. "I grew up here. As a young kid I could often be found wandering around the corridors of the Paterson Building where my dad was a cancer biologist," he remembers. "In fact, the last time the University paid me I was a 17-year-old cleaning out labs!"
Professor Lord rejoins the University as Vice-President and Dean in the University's Faculty of Biology, Medicine and Health. Prior to this, he was Director of the Biomedical Research Centre at Guy's and St Thomas' NHS Foundation Trust in London.
With a mum who was a renal pathology technician at the Royal Manchester Children's Hospital and a sister who is an oncologist at Clatterbridge, medical expertise definitely runs in his family.
It feels fitting, then, that he should be returning to the city where it all began to be a driving force in its future. "I'm delighted to be in Manchester where my focus will be on ensuring the ongoing delivery of teaching, learning and research excellence in what is one of the very best faculties of its kind in the country," says Professor Lord.
"With its devolved health and social care system, Manchester is a unique environment to conduct research and work in partnership with the NHS, the city council, funders and other agencies to deliver real improvements to people's health. The Faculty and University are huge contributors to that process – where inspirational teaching and worldclass research marry to educate and train thousands of students and professionals each year."
With its devolved health and social care system, Manchester is a unique environment to conduct research and work.
Pioneering research
Professor Lord is a consultant transplant nephrologist with a focus on renal, pancreatic and islet transplantation. Just days before he joined us, he had published his latest paper. He had discovered a critical part of the body's immune system that has potentially major implications for the treatment of some of our most devastating diseases.
This passion for research and discovery makes him an ideal fit for Manchester's interdisciplinary, research-intensive environment.
"I'm a fundamental believer in the importance of basic discovery science and how understanding the mechanisms of disease can be rapidly translated into new treatments for the benefit of patients," he asserts. "That's one of the exciting things about being in Manchester, not only in this important leadership role, but also transitioning my laboratory here. The opportunities for research to practice at pace in Manchester are almost unique.
"I think Manchester is an extraordinary university and the Faculty already has a fabulous reputation. We have a huge opportunity to make an impact in science, education and clinical translation at scale."
Scale and pace
The Faculty of Biology, Medicine and Health, which Professor Lord will lead, is comparable in size to a mid-size university, with nine research domains that facilitate interdisciplinary working and collaborative research with strategic partners. The Faculty is the largest centre for medical training in the UK, embodying the University's tradition of innovation in improving the health of people around the world.
"I'm really excited that I can walk 20 metres in any direction from my office and I can be meeting Faculty colleagues and students, or visiting the the Manchester University NHS Foundation Trust or a Wellcome Trust-funded clinical research facility," he beams. "One floor up are the labs for the Lydia Becker Institute for Immunology and Inflammation – if I've gone missing, I might be found there in my white coat!"
There may be lots going on around him, but he's clearly focused on the future. "My priority is to define a new, impactful, ten-year strategy for Biology, Medicine and Health," he says. "Excellence in fundamental and translational science is key. Identifying our areas of strength and supporting them, enhancing alliances between discovery science and clinical medicine, and showing how research can impact on the health of people in Greater Manchester and far beyond – at scale and pace – is important.
"Our close links with the NHS mean that our research can make a significant contribution to improving patients' lives. We want to see a lit runway from the University directly to how this will impact on the people who live in the region and beyond."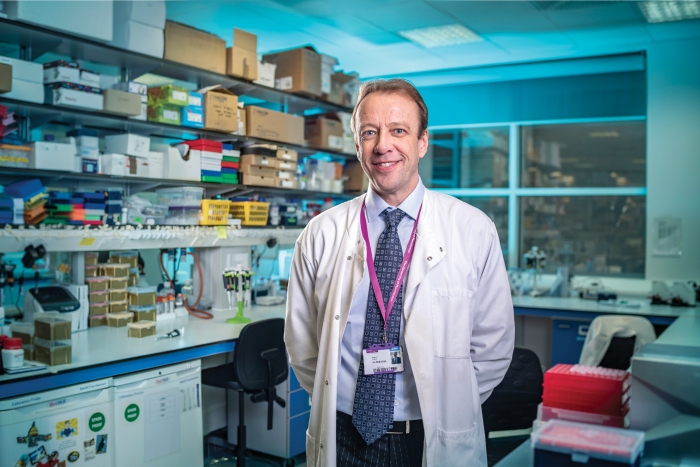 Revolution and devolution
Professor Lord is a strong supporter of the 'one Manchester' concept and approach. "Going right back to the Industrial Revolution, Manchester has had a bold identity and an embedded strength of purpose. It would be difficult to have a devolved health care system without that strong culture," he states.
"There are a lot of commonalities of need within the university and health care sectors across the north. Manchester can be a national beacon of change for the better.
"This is the best example that I've seen in the world of a true civic university. If by working with NHS partners, the Greater Manchester Health and Social Care Partnership and Health Innovation Manchester we can push the impact of our science and our education, then there will be significant benefits for the people of Manchester, where there is a high burden of medical need and reduced life expectancy.
"I believe the devolution agenda is necessary to benefit the city region and I actually think we can change the world. If we get it right, it has relevance for London, New York, Beijing. We're trying to answer a global question: how do you deliver research, teaching and clinical care that impacts on everyone in your society?"
This feels like the crux: is this what motivates Professor Lord?
He doesn't hesitate: "Making a difference to other people's lives, be that through the leadership role that I have taken on, the discovery science that I do, the clinical care that I give, or delivering a better education experience for students – if I can affect positive change in other people's lives, that's what gives me energy."
Graham Lord talks discoveries
Graham Lord talks about how scientists have discovered a critical part of the body's immune system with potentially major implications for the treatment of some of the most devastating diseases affecting humans.