After seven years spent inspiring our community as Chancellor of The University of Manchester, we reflect on the immense impact Lemn Sissay OBE has had during his tenure.
From his challenging early years, losing his family and growing up in care, Lemn Sissay OBE overcame adversity to excel as one of the country's most adored creative poets, while also becoming well-known for his caring, thoughtful nature, and a determination to support those who need it most in the Greater Manchester region and across the wider world.
Lemn became separated from his mother shortly after she travelled to the UK from Ethiopia in 1966 and only met her again after turning 21. During a tumultuous childhood, he lived in four different children's homes and would only discover his name was 'Lemn Sissay' when he left the care system aged 17. He went on to use the little money he had to kick-start what would be a long and revered career in poetry, inspiring the minds of many with his distinctive style and thought-provoking, emotive pieces.
To inspire and be inspired
After seven remarkable years, Lemn's tenure as Chancellor at the University is coming to an end. At his election in 2015 he said: "My primary aim is to inspire and be inspired." His work with students and arts institutions in the Manchester region and beyond has done just that. Lemn has excelled in public-facing roles including Trustee of the Manchester International Festival, Fellow and Trustee of the Foundling Museum and his position as official poet of the London 2012 Olympics, to name but a few.
His work as Chancellor has equally left a mark. Channelling the University's core goal of social responsibility, Lemn worked to expand our donor-funded Equity and Merit Scholarship Programme to give Ethiopian students the opportunity to study a master's at the University. He brought together the brightest minds from around the world, helped them to overcome financial difficulty and gave them a platform from which to become global citizens and make a positive impact on the future of the planet.
My primary aim is to inspire and be inspired.
"My work with students has been some of the most rewarding during my time as Chancellor. Students are at the heart of everything the University stands for and I have been inspired by their passion, drive and determination to make a positive difference in the world," Lemn says.
One of these graduates is Aida Erkihun Bayissa. After meeting Lemn while volunteering in Ethiopia and becoming aware of the scholarship, she went on to study an MSc in International Development at the University's Global Development Institute. Without the scholarship, Aida said, her time in Manchester wouldn't have been possible.
After graduating and working at the International Finance Corporation on investment policy and promotion in Ethiopia, Aida has since started her own consultancy firm, ACE Advisors. The firm works across the public and private sector in Ethiopia to provide a bespoke service on policy and strategy.
Lemn's work to create opportunities for students from across the globe, regardless of background or financial status, is just one example of the University's values of knowledge, wisdom and humanity brought to life in the everyday world.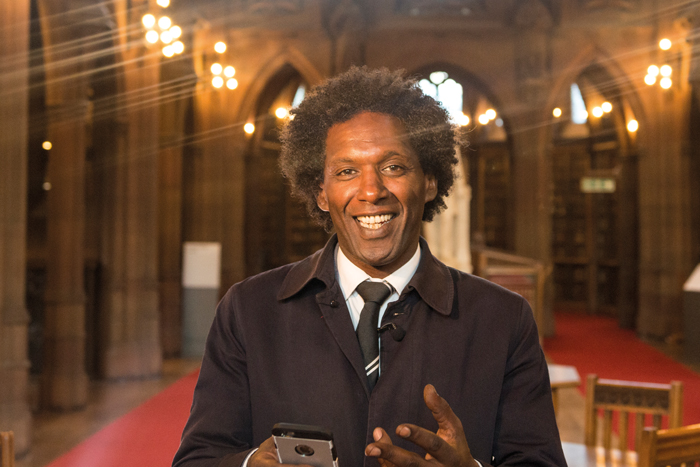 Leading with care
The Chancellor also plays a key role in promoting the University to the wider public, from presiding over meetings of the General Assembly to the conferment of degrees. Along with official business, Lemn is also known for organising the annual care leavers Christmas dinner through his foundation. First held by the Lemn Sissay Foundation in 2012, the programme is now celebrating its tenth year.
"What started in Manchester has spread across the country and this year 25 towns and cities will hold Christmas Day events for care-experienced adults, offering presents, great food and a wonderful day," Lemn explains.
Since 2015, the Manchester dinner has been hosted by the University, and our staff and students volunteer their support in the run-up to and organisation of the day.
With a smile for everyone he meets, Lemn will be remembered not only for his incredible work as an ambassador for the University and everything we stand for, but also as an inspirational artist, bringing words to life in his memorable poems. His poem Inspire and be Inspired continues to welcome students to the University and kick-start their journey to becoming the future leaders of our world.
Vice-Chancellor and President, Professor Dame Nancy Rothwell said: "Lemn has been an amazing supporter of our University, bringing life to the role – a ceremonial office with significant ambassadorial responsibilities – thanks to his star quality and wholehearted enthusiasm. It has been a pleasure working with him."
To mark the end of his tenure as our Chancellor, Lemn Sissay OBE has released a new poem, Gift of Time.