There's a bioengineering revolution taking place at Manchester – and Professor Sarah Cartmell is helping lead the charge. Here, she shares the challenges that inspire her mission and why she believes Manchester is the perfect platform to host the fight.
Some of The University of Manchester's brightest minds are bringing together medicine and engineering to find answers to the world's biggest health challenges, such as improving quality of patient care and supporting an ageing global population.
Professor Sarah Cartmell, Head of the Department of Materials, is one of these pioneers seeking solutions at the interface of disciplines. She's playing an instrumental role in helping to set the national agenda for advanced materials and create life-changing surgical products.
Stimulating solutions
For Professor Cartmell, the motivator is "to deliver real-world change for people".
"By 2030 the world's population will have increased by over 50%," she explains. "There is greater demand for more effective and economical healthcare interventions to treat our rapidly growing and ageing population."
Her research explores the ways electrical stimulation can be used to influence cell activity in orthopaedic and wound-care solutions.
"Most people don't realise that our bodies use electrical regimes to heal ourselves all of the time," she says. "If we can create new products or use tissue engineering to stimulate increased cell growth, we can dramatically improve the rate and quality of healing."
Much of Professor Cartmell's work involves collaboration with other academics and industry to solve real-world medical problems – for example, how well artificial implants integrate with bones in the body.
Professor Cartmell and her team are using electrospinning and rapid nanofibre production technology to help tackle this problem. Firstly, a biodegradable scaffold is engineered in the shape of the component that needs to be regenerated, such as a piece of bone or layers of cartilage. Then, advanced tissue engineering is used to stimulate stem cells to grow into the right shape across the scaffold, which eventually degrades to leave regenerated tissue.
"It's marrying engineering with biology," she notes.
"It's an honour to be able to work with very talented and enthusiastic colleagues across a range of disciplines."
Making a difference through materials
Professor Cartmell is already on the cusp of improving the quality of life for patients with diabetes, thanks to a Knowledge Transfer Partnership with local wound-care company, Crawford Acelity.
"We explored ways to embed electrospinning technology and nanofibres into wound-care products to produce a special type of plaster to treat chronic ulcers," she says.
"Working with industry is invaluable in translating University research into technology readiness and delivering real change to patients more quickly than working in isolation."
Professor Cartmell's mission to make a difference doesn't stop at her own research: she successfully secured a multimillion-pound grant from the Engineering and Physical Science Research Council to fund a research programme for postgraduate students on biomedical material products.
"Colleagues and I worked for two years to prepare the grant application," Professor Cartmell reflects. "It was really rewarding to finally see all of that work come to fruition in October 2019 when students arrived.
"I'm so excited about training them up and supporting them as they develop products that will make a difference in the community."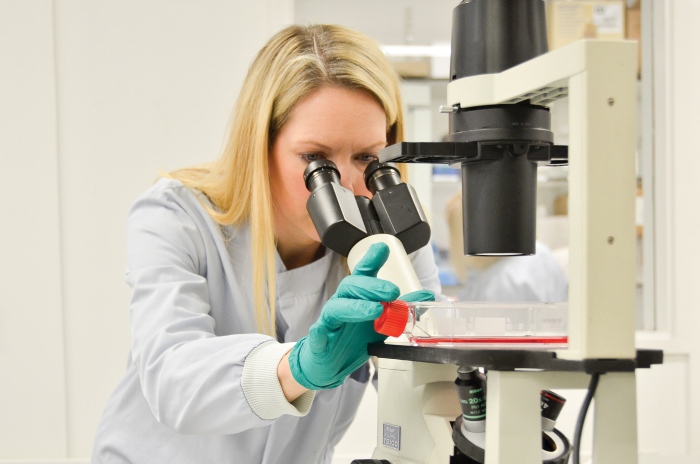 There is greater demand for more effective and economical healthcare interventions to treat our rapidly growing and ageing population.
Global ambitions, local impact
As well as fronting a life-changing area of research, Professor Cartmell is Head of the Department of Materials, Programme Director at the Advanced Biomedical Materials Centre for Doctoral Training and the UK Biomedical Materials champion for the Henry Royce Institute, the £235 million, government-funded centre for advanced materials research that has its hub at Manchester.
"Managing multiple roles at the University is pretty hectic but it's really exciting," Professor Cartmell explains. "I'm always learning and find that there are skills I'll gain in one project that can be applied to another."
"At the Royce my priority is to set the right biomaterials agenda for the UK – one that will place us in the best position for international opportunities, whether that's global companies seeking out collaborations or academics wanting to conduct their research here."
Despite her global connections – Professor Cartmell has travelled to India, Melbourne and Toronto for various collaborations in the past year – she believes that sometimes the greatest rewards can be found closer to home.
"When it gets really busy and you get tired, it's easy to lose sight of the impact you have on individuals," she reflects. "Then you receive a really nice, personal note from a student that makes you think: this is why we're doing this."
Manchester's heritage
Manchester has a strong history of combining engineering with medical science to improve lives. Professor Cartmell's modern-day innovations in joint replacement technology parallel the work carried out by Sir John Charnley, the University alumnus who transformed hip replacement surgery in the 1950s.
What is it about the University that drives pioneering discoveries and places Manchester at the forefront of the UK's bioengineering activity?
"I think we have an environment of excellence, both in terms of academic research and the facilities we have available, but we're also very down to earth," Professor Cartmell answers.
"Belonging to a northern city makes everyone open and happy to collaborate across all disciplines. That's definitely one of Manchester's strengths."
The University's research beacons – cancer, biotechnology, energy, global inequalities and advanced materials – are improving lives across the world through the kind of cross-disciplinary collaboration that Professor Cartmell describes. She is playing her own part by developing advanced materials solutions to health challenges faced in many countries.
"Not all of our innovation is around pioneering new products. We're also interested in ways to manufacture existing products to make them more affordable in different global markets," Professor Cartmell says.
"If we can create a hip joint or dental implant that's 10% of the existing cost, we can make a difference to thousands of people in poorer countries."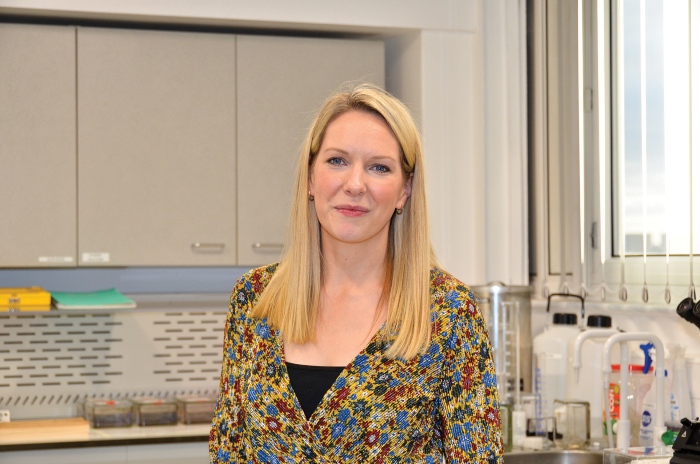 A fighting spirit
Professor Cartmell has a range of ambitious tasks ahead: leading a department of 2,000 students and staff, delivering innovative biomaterial solutions and helping Manchester become a global centre of excellence for biomedical engineering.
Fortunately she's no stranger to a challenge, having practised karate since her days as an undergraduate student and competed for England. She's now retired from competition but is still training with a fifth dan in the discipline. Has mastery of martial arts benefitted her career?
"Learning how to fight requires discipline, focus and the ability to control your emotions in a stressful situation," Professor Cartmell shares.
"I have definitely found that the skills developed through the practice are really useful and relevant in all areas of life. Karate has taught me the determination to succeed."
Materials, medicine and martial arts: Professor Cartmell proves to be a champion across disciplines.