Balancing work and family life continues to be a challenge for new parents, employers and policy makers. Manchester's researchers are exploring the role of fathers in early childcare and using these insights to shape future government policy on parental leave.
"Michael was born in an Uber," Dr Richard Allmendinger laughs. "It's not exactly a normal start in life".
While he can smile about it now, Dr Allmendinger wouldn't have chosen such an unusual entrance into the world for his second born.
His subsequent choice is almost as unusual as Michael's arrival. Dr Allmendinger, who works at The University of Manchester, is one of only a few fathers to have decided to take time off work to spend with their child. According to government estimates, only 2% of fathers have taken shared parental leave since its introduction in 2015.
For Dr Allmendinger, the decision was an easy one. "Three months fully paid to spend with my family – why would you not take that? It was a no-brainer to take the time off to support my wife." Yet most fathers still don't take time off to care for their children. Why is this?
Colette Fagan, Professor of Sociology and the University's Vice-President for Research, has been looking for answers to this question through European and UK-focused research projects. These include a recent ESRC-funded project which examines the conditions that enable fathers to be more involved in looking after their young children.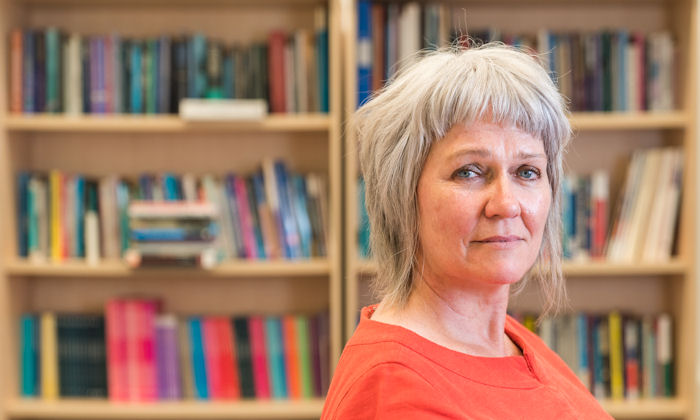 "We looked at what shaped fathers' involvement in terms of employment, their attitudes, what their partner did and their socio-demographics," says Professor Fagan.
"We found that it's crucial for fathers to learn habits when their child is very young. Our research shows that if they are involved in the first nine months – helping at night, changing nappies – they are more likely to still be involved with caring when the child is three, five and seven."
Recommendations to government
"Our research shows the early involvement of fathers in childcare is vital, and that policies which enable fathers to take shared parental leave play a pivotal role," continues Professor Fagan.
"Loss of earnings is a major barrier to men taking shared parental leave – in many households the father is still the main earner and they just can't afford to take a lengthy financial hit. Another is when the amount of leave available per child is shared by the parent rather than an individual entitlement; as this means that if the father takes leave, then it reduces the amount the mother can take.
"We made recommendations to the Women and Equalities Select Committee that fathers should have an individual statutory right to well-paid leave. They listened."
The resulting Fathers and the Workplace enquiry recommended that fathers should get the option of 12 weeks' paid paternity leave at 90% of their salary for the first four weeks and at statutory levels for the remaining eight weeks. "It's definitely a positive step," says Professor Fagan, "but there's a long way to go."
It's a view shared by Dr Emma Banister, Senior Lecturer in Marketing at the Alliance Manchester Business School, whose recent research looked at the expectations and experiences of fathers on shared parental leave.
"As it stands we're only giving some people some choice – and it's often those already in a privileged position being given the most flexibility," she argues. "We submitted evidence to the committee highlighting the fact by the current policy. The resulting report cites our findings and recommends including the self-employed within the provision, which does address this in part."
Dr Banister believes there is still a future for shared parental leave. "It isn't perfect but we should be looking to improve it, making more people eligible to take it and encouraging organisations to bring the benefits in line with their maternity leave."
"We found that the success of the scheme remains a challenge due to a lack of awareness and understanding, and a range of barriers and constraints associated with the policy design, its implementation in workplaces and the wider parenting culture."
Cultural change
As part of the project, in partnership with Working Families, the Fatherhood Institute and Dr Ben Kerrane from Lancaster University, Dr Banister has developed a range of films to raise awareness among parents and employers.
"Part of the problem is a lack of role models," she says. "These films bring to life parents' experiences with decision-making as well as the leave itself. Sharing these stories can go some way towards normalising shared parental leave as a possibility for fathers."
She insists, however, that this is a complex problem to solve. "The fathers in our study were overwhelmingly positive about taking parental leave but deep-rooted cultural and structural barriers stopped them feeling totally comfortable in what has been a traditionally female space," she explains.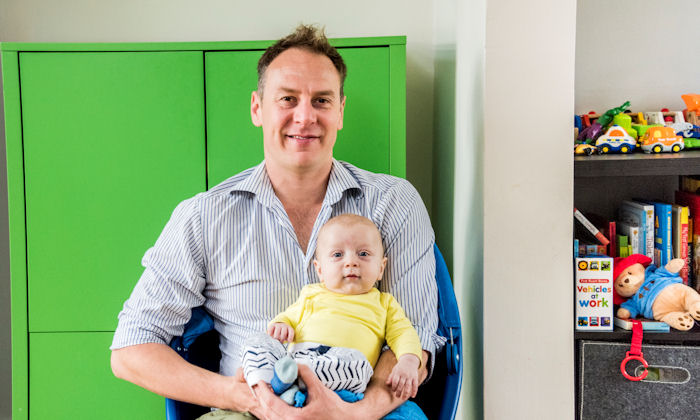 Looking to the future
A complex mix of individual, structural and cultural factors lies at the heart of the parental leave question, but Manchester's researchers are working to unravel this so that more parents have positive experiences like Dr Allmendinger's.
Dr Banister believes that shared parental leave is "part of an important move towards recognising employees as 'people who have lives', regardless of their gender identity, parental status and responsibilities".
Future research at the University will use shared parental leave and flexible working arrangements as a lens to look at the role of broader organisational policies and Led by Professor Fagan, this will involve further collaboration with public and private sector organisations to marry theory with practice. "Hopefully our research can shape practical solutions that have a positive impact on working families," she says.
And what of Dr Allmendinger: would he take shared parental leave again? "Yes, of course," he replies, without hesitation. "It's benefited me, my wife and both our sons."