The Undergraduate Awards – known as the Junior Nobel Prize – are the ultimate accolade for high-potential students. This year, two of our students won their categories and no less than 11 were highly commended, demonstrating the value of studying here at Manchester. We hear their stories.
The atmosphere at The University of Manchester is already so heavily impregnated with enthusiasm and ideas, that small sparks are often enough to provoke wonderful explosions," says Natalia Beghin.
Natalia is one of two Manchester students to win in this year's Undergraduate Awards, with a paper on Politics and International Relations.
Fellow Manchester winner Jamie Hargreaves, who secured his prize in Mathematics and Physics, wholeheartedly agrees: "Yes, I would describe my academic experience here in a similar vein – I was inspired by fantastic tutors and research and it all accumulated in this, my Undergraduate Award."
The Undergraduate Awards is the world's largest international academic awards programme, unique in its pan-discipline approach to research.
"It is cited as the ultimate champion for high-potential undergraduates," explains Professor Kersti Börjars, our Senior Lead for the Undergraduate Awards Project.
"Awards like this are a sign of recognition for our students and their great ability.
"But, beyond that, they also work to highlight the value of studying at a university like ours, where research is a way of thinking and being, not merely an academic technique but a way of approaching the world around us."
Among great minds
Winners Natalia and Jamie were selected from a global pool of academic talent, nominated for their ability to produce an inspiring and innovative body of work. Collectively, all candidates practise a diverse range of disciplines and continually push the boundaries of academic output. It is this level of
theoretical diversity that makes The Undergraduate Award such a prestigious one.
"It was an indescribable moment," Natalia says of her win, at a ceremony at Dublin City Hall where guests included astronaut Mae Jemison.
Jamie agrees: "We heard some incredible speeches from business consultants, philosophers and professors. I felt motivated to be among so many great minds."
I felt motivated to be among so many great minds
It was an innate interest in mathematics and physics that brought Jamie into an academic environment where he thrived. Drawing influence from French mathematician Augustin-Louis Cauchy, his winning paper was an investigative piece exploring the biomedical properties of the skin. He explains: "I wanted the piece to be engaging with a strong multidisciplinary approach. I fused mathematics and physics with core biological concepts – it was this merger of concepts that made my project so unique."
When asked who has inspired him, Jamie says his supervisors: "Professor William Parnell and Dr Tom Shearer were instrumental in my success and to this winning body of work. They encouraged a holistic approach to research. They really pushed me to understand the fundamentals and focused heavily on physical interpretation and meaning."
Jamie's next step is a role looking at transformational change for governments and operations around the world for the UK government.
Nothing short of wonderful
For Australian-born Natalia, coming to Manchester has always felt somewhat predetermined: "My decision to move to the UK was twofold. First, I was drawn to The University of Manchester because it was where my grandmother completed her degree in Medicine; and second, the University offers such a brilliant Politics and International Relations course."
Natalia continues: "The subject of humanitarianism has always interested me and this came through in my paper. I used Judith Butler's feminist theories and combined them with contemporary interpretations by Michel Foucault, particularly his thinking on power, and Johan Galtung's scholarship on peacefulness, to conclude with an original solution to the problem of peace in society."
When asked who had inspired her, Natalia's answer is unsurprising given her interest in humanitarianism and desire for diversity – it is our Professor of Political Economy from 1948 until 1957 and Britain's first black professor, Sir Arthur Lewis.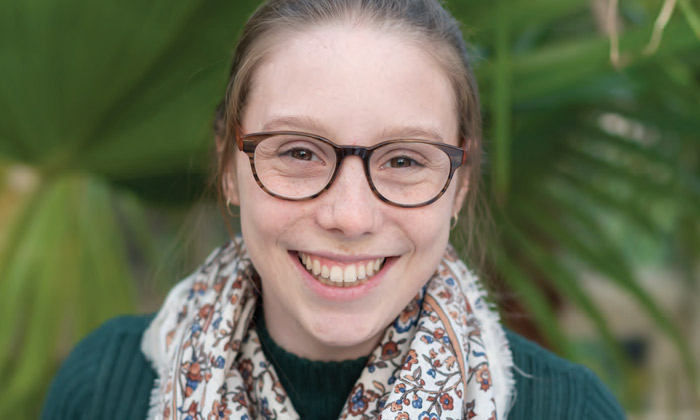 "He drove economic development not only through his theoretical research, but also in his ability to put this research into something tangible. Sir Arthur became the first economic adviser to Ghana after it gained independence in the late 50s – he was nothing short of wonderful."
As for her own aspirations, Natalia says: "I'm extremely passionate about access to medicines and food security issues. I plan to move on to work in the international humanitarian sector after completing my master's in International Affairs."
The Undergraduate Award urges students to "ask the right questions, to find the answers they need and how to assess the new information for quality. These skills are likely to be more useful to them in the long run, both for their career and beyond, than the facts they learnas part of their curriculum."
Our two winners, and their highly commended fellow students, are about to go forward in their specialised areas fully equipped with this approach, something Professor Börjars describes as "a new way of thinking about knowledge".