Ben Elton has changed the face of British television comedy, toured as one of the biggest names in stand-up comedy, published 16 novels and written
world-renowned musicals. But without Manchester, it might never have happened.
Anarchic 1980s sitcom The Young Ones made superstars of Ben Elton (BA Drama, 1980) and his fellow drama graduates Ade Edmondson and the late Rik Mayall (both BA Drama, 1978). But the seeds of a stellar career were sown during his childhood in Guilford.
Performances as the Artful Dodger in school and local theatre productions of Oliver Twist sparked Ben's love affair with amateur dramatics. He was aiming to leave school at 16 to pursue a career in theatre, until an article in the Guardian set him on a path that would not just change his life, but define the future of British comedy.
"My parents read an article about a visionary teacher called Gordon Vallins who had set up the first A-level in theatre studies," reminisces Ben. "He'd persuaded South Warwickshire College to set up this tiny little department. My dad said: 'If we can get you into that, would you be interested?'"
Students were encouraged to put on their own stuff. I knew that this was the place I wanted to go, and I was really lucky – I got in.
Aged 16, Ben left home to join Gordon's course where he wrote his first plays. "I just became a full-time writer, even though I was effectively a schoolkid, and I've been one ever since," he says.
The Manchester years
Having almost left education, Ben was now setting his sights on studying drama at degree level. He chose Manchester for its hands-on learning. "I remember thinking, 'I want a place that I can work in'," he recalls.
"Students were encouraged to put on their own stuff. I knew that this was the place I wanted to go, and I was really lucky – I got in."
"I put on numerous plays and got involved in the amateur dramatics scene. Manchester Umbrella was the student theatre company. I loved it."
It was through these performances that, as a first year, Ben formed a close partnership with third-year Drama student Rik Mayall, who went on to star in and co-write The Young Ones with Ben and Lise Mayer.
"He and Ade (Edmondson) and one or two of the other third years put on a little comedy revue for the first years when we'd first arrived," remembers Ben.
"I remember very clearly Rik doing this opening monologue, as if we all knew he was a superstar. I can remember weeping with laughter. Rik was very gregarious and very quickly recognised in me a kindred comic soul, and we became friends almost immediately.
"It was actually the little bit of street theatre I wrote about our studio that he thought was so funny. I think I wrote good jokes even then, and I think he recognised that.
"He'd always pretend he didn't know my name and call me fresher. And I admired him enormously. Everybody knew him then – he was immensely charismatic."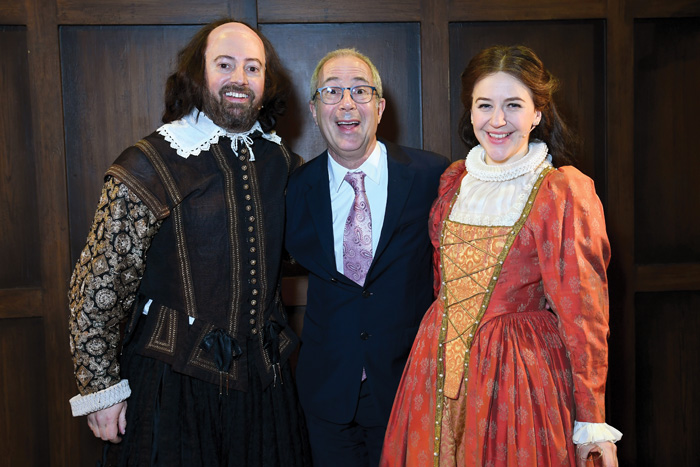 A career begins
They reunited at the 1979 Edinburgh Fringe. "I had two plays and I wrote a little musical, and a three-hour comic play. Rik and Ade came to see old mates from Manchester, and Rik and I got close again."
I've never had a performance ego. I've got a writing ego, I want to be heard.
Ben quickly joined Rik and Ade to become a major player in London's burgeoning alternative comedy scene in the early 1980s. "I went and saw them in a couple of pubs and Rik said: 'You've got to write me some stuff. I can't do gags well – you've got to do it.'"
"Very shortly after that, Paul Jackson, the BBC producer, went to Rik and said 'if you can come up with something, I'll pitch it to the BBC'.
"He and Lise had great ideas, but to my good fortune recognised that there was a writing talent missing, and Rik saw it in me."
Continued success
Four decades after those performances as the Artful Dodger, with career achievements including the BBC's Blackadder and the West End smash We Will Rock You, Ben shows no signs of slowing down.
Two of his most recent projects have been regarded by critics as among his very best works: the Shakespearean sitcom Upstart Crow and his first stand-up show in 15 years, in 2019.
Yet despite his return to the stage, Ben has rarely gone back to the acting that triggered his remarkable career. "I've never had a performance ego. I've got a writing ego, I want to be heard. And I want to be understood," he explains.
"In all the many, many plays I put on at university, and the many sketches, I never put myself in any of them. I wanted to find good actors to do the best version of my lines."
Meeting Rik and Ade at Manchester meant that he didn't have to look far.