Sustainable practices
Every operation and process undertaken at our University has sustainability front of mind, in line with the commitments made and ambitions outlined in Our Sustainable Future (PDF, 4.7MB).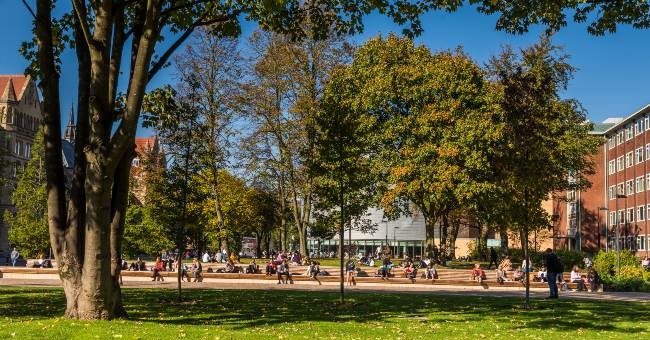 Sustainability highlights
Decarbonising fleet vehicles
We aim to decarbonise fleet vehicles by 2030 and provide electric vehicle charging points for staff, students and visitors. Discover more of our sustainable travel initiatives.
Food waste collection
We are in the process of rolling out food waste collection facilities, aiming to have them in 100% of University buildings by 2024.
Eliminating peat based compost
We eliminated the use of peat based compost across campus in January 2023. Discover more ways we are making our campus sustainable.
Biodiversity survey
We have conducted a biodiversity survey of our campus to calculate a baseline and set a target to provide a measurable improvement by 2030. Discover more of our commitments to promoting biodiversity.
Meet the team
Environmental Sustainability team
Alongside our core team of sustainability experts, we also work with colleagues across the University including Social Responsibilty, Estates and Facilities, and Procurement.