Online course
Pollution and Environmental Control (online)
Qualification:

Master of Science (MSc)

Duration:

12 months full-time or up to 60 months part-time

Next enrolment:

September 2023

Fees:

UK £12,350, International £15,350 (reduced from £20,350)
Introduction
Help build a better future
Pollution is transforming our environment, distorting habitats and wiping out biodiversity. It's a major contributor to the escalating global climate crisis, and threatens our way of life, our wellbeing and our safety.
As our environment evolves and human behaviour adapts, new challenges emerge, and we need a new generation of environmental scientists to tackle those challenges head on, and shift the trajectory of our planet.
Our online MSc in Pollution and Environmental Control will arm you with the multidisciplinary knowledge and wide-ranging practical skills to influence positive environmental change and help build a better future.
Key features
Study at an environmentally-conscious university
Get first-rate teaching at one of the top ten universities in the world for sustainable development (Times Higher Education Impact Rankings).
Analyse real-life content
Focus on fundamental environmental issues that matter right now, and apply practical skills to important real-life problems.
Make it work for you
There's no need to pause your career or relocate. Choose when and where you study, and fit your degree around your life.
Chloe Kilpatrick
The course gave me an opportunity to develop transferrable skills useful for pursuing a career in both academia and industry. I was able to learn about the impact humans are having on the environment and how to quantify this impact with measurement and modelling.
Chloe Kilpatrick
PhD Student, The University of Manchester
I developed confidence in using mathematical and computational modelling approaches to solve real-world problems, understanding the sources of pollution, how it moves through the environment, and the impact it can have on humans and ecosystems.
Throughout the course, I was learning from and being supported by leading academics and industry professionals who helped me develop a wide range of skills. With the knowledge and skills I developed throughout the master's course, I was able to secure a place on a PhD program here at The University of Manchester.
The course also gave me the opportunity to further develop my research skills, from designing a project, gathering data in the field, running analysis in the lab and using statistical approaches to answer research questions.
The MSc project in semester 3 helped me feel more confident going into a PhD, having had the experience to conduct a research project at postgraduate level.
The range of technical skills I gained from the taught modules, from using mathematical equations to complex computational modelling software allowed me to develop a wide skill set which has been extremely valuable and transferrable to my PhD.
Key information
Delivery

100% online learning

Duration

12 months full-time, or up to 60 months part-time by semester

Enrolment date

September

Apply

Find out how to apply and what documents to submit in the application and selection section

Workload

Part-time: approx 20 hours per week Full-time: approx 40 hours per week

Academic team

Dr Andrew Lowe, Lecturer and Course Director
Dr Stephen Boult, Senior Lecturer
Prof Paul Connolly, Professor in Atmospheric Physics
Dr Jon Pittman, Senior Lecturer
Dr James Allan, Reader and NCAS Research Scientist
Prof David Topping, Professor of Digital Environment

Fees and funding
For the September 2023 academic year, tuition fees are £12,350 for UK students and £15,350 for international students (reduced from £20,350). International tuition fees are reduced for the first intake in September 2023 and January 2024.
We offer payment by instalments , so you can spread the cost of studying with us.
Entry requirements
We require an Upper Second (2:1) Class Honours degree in a science subject (or the overseas equivalent).
If you do not have a 2:1, but have relevant work experience, you may be considered.
Xueqing Wang
The knowledge and skills I acquired at The University of Manchester are very relevant to the requirements of my current position, and much of the work I am doing is based on modelling skills I developed during my time at the university.
Xueqing Wang
Graduate Hydraulic Modeller, Jacobs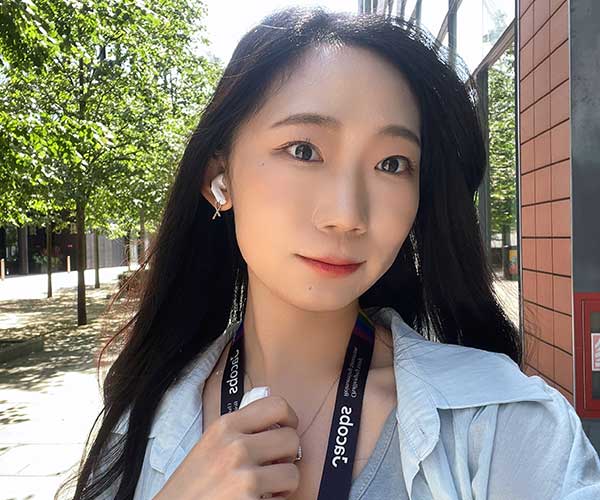 I am a master's graduate of the on-campus Pollution and Environmental Control from The University of Manchester, Class of 2021, and I am currently working at Jacobs as a Graduate Hydraulic Modeller.
The knowledge and skills I acquired at The University of Manchester are very relevant to the requirements of my current position, and much of the work I am doing is based on modelling skills I developed during my time at the university.
Thanks to my studies, I felt better matched to the requirements of the position at the start of my job search, and I felt I had competitive advantage over other applicants. The skills I had learnt during my time at the University also prepared me for challenges at formal work, enabling me to be involved in projects early on.
In addition to the theoretical knowledge of hydraulic modelling, many of the modelling software I am using at work was learnt during my studies, such as Flood Modeller and QGIS. Data analysis is also a skill that I am currently using frequently in my daily work routine. The skills I learnt at Manchester provided me with a good transition into the workplace, allowing me to adapt smoothly and quickly to my environment whilst allowing me to put what I learnt into practice.
Course overview
Who this course is for
Whether you're working in the environment sector, or want to move in that direction, if you're passionate about creating a greener future and have a background in science, this course is for you. We'll help you build your specialist knowledge and develop the quantitative and qualitative skills required to manage pollution effectively, drawing on a multidisciplinary approach to new and existing environmental issues.
Designed in parallel with the established on-campus Pollution and Environmental Control MSc, this online version offers the same high-quality content and top-tier teaching, but with built-in flexibility to fit your studies into your current commitments. With the option to pay in instalments as well as various scholarships and bursaries on offer, this course is open to you, whatever your circumstances, wherever you are in the world.
If you're ready to take the next step in your career and want to transform the future for your local and global community, you're in the right place.
Padma Bharrathi Aravindhan
Data analysis, building and running hydraulic models, and mathematical and environmental modelling with result interpretation have paved the path to choose my career as a Sustainable Drainage Analyst at United Utilities.
Padma Bharrathi Aravindhan
Sustainable Drainage Analyst, United Utilities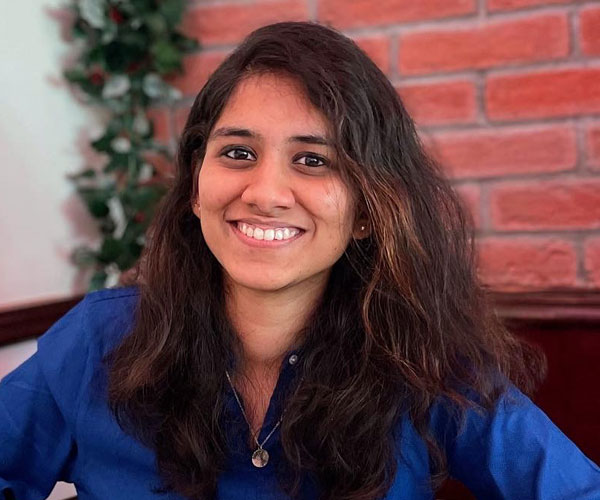 I have always dreamt about doing a master's and building my career in an environment-based subject. Flood risk analysis was always a part of my bigger picture, back then. Completing my master's in Pollution and Environment Control helped me experience different opportunities and explore my area of interest within the sector.
The course had several modules that introduced me to Weather Forecasting, Water-related modelling, and simulation software, building mathematical and environmental models, and studying the effects of climate change on the environment and natural resources. This exposure helped me, understand the importance of each module, and figure out my area of interest and strength. It also presented me with an opportunity to develop my skills as well.
Data analysis, building and running hydraulic models, and mathematical and environmental modelling with result interpretation have paved the path to choose my career as a Sustainable Drainage Analyst at United Utilities. The perfect modules in the course to use and play around with the various software are currently helping me to adapt to working on software, observing, and interpreting results.
This is a dream come true for me. Thank you The University of Manchester, all the professors who taught the modules, and my supervisor for being a part of my dream!
What you will learn
Learn how to measure pollution, predict its mobility and recognise the quality of your measurements.
Address the effects of human activities on the biosphere, through the study of aquatic and terrestrial ecosystems.
Get to grips with the structure of the atmosphere, and how weather and air motions affect the spreading of pollution.
Become skilled at environmental modelling, focusing on water movement and pollution.
Use industry models to examine real-world problems with GIS and environmental data.
Qian Zhang
This programme equipped me with not only ground environmental knowledge but many abilities for personal development, such as data analysis, academic writing, critical thinking, as well as project management.
Qian Zhang
PhD Student, The University of Manchester
This programme is very helpful for my PhD study as it contains various types of essential skills including numerical data analysis methods in Measuring and Predicting; GIS, hydrological and hydraulic modelling tools (WEAP software, Flood modeller, SWMM models, etc.) in Pollution Management in Practice and Environmental Monitoring and Modelling in practice, which allows me to get contact with many cutting-edge software tools currently used in industries and research study.
In addition, we also had other courses introducing environmental issues related to soil and atmosphere, where we gained advanced knowledge related to contaminants pollution and their mobility through different phases.
Apart from these courses mentioned above, the research project at the end of the programme was extremely helpful! During this period, we had opportunities to apply all that we had learned to our projects, which helps us consolidate and integrate all our knowledge and skills. Thus, it has been a helpful practice before entering either a company or further study.
Overall, all of the courses provide me with essential knowledge, as my project is more related to numerical data analysis and modelling manipulation. Therefore, this MPEC programme has definitely transformed my PhD study!
Where and when you will study
Wherever you are in the world, you can benefit from internationally-renowned teaching at The University of Manchester – the 28th best university in the world according to the latest QS World University Rankings, 2023 – right from your desk.
This course is designed specifically for people who want to study while keeping up with existing work, family or social commitments. There's no need to relocate, and no reason to pause your career, with flexible online content and part-time options.
You'll study through a virtual learning environment (VLE), accessing a series of recorded lectures, instructor-led labs and computer practicals, as well as online course content including videos and reading materials, whenever it's convenient for you. This is complemented by engaging online discussion boards, real-time tutorials and regular opportunities to chat online with your tutor.
We've also made it possible for online students to attend field trips virtually, accessing site information and field data online with video and audio guides to support you.
How it will benefit your career
The on-campus version of this course has 45 years of success behind it, giving your degree the prestige to stand out.
Sought-after specialist knowledge and advanced qualitative and quantitative skills will empower you to influence change.
Real-life scenario work and virtual field trips will prepare you to hit the ground running and lead in a new role.
A global network of like-minded professionals will support your development and broaden your horizons.
Our multidisciplinary approach will give you a broad range of tools to draw upon, enabling you to think differently and find innovative solutions.
Edward Yeamans
The course provided me with a range of technical skills that have been transferable towards an environmental consultant position and has also helped me to discover the key environmental area I wanted to peruse professionally — Flood Risk Research/ Consultancy.
Edward Yeamans
Graduate Water Consultant at AECOM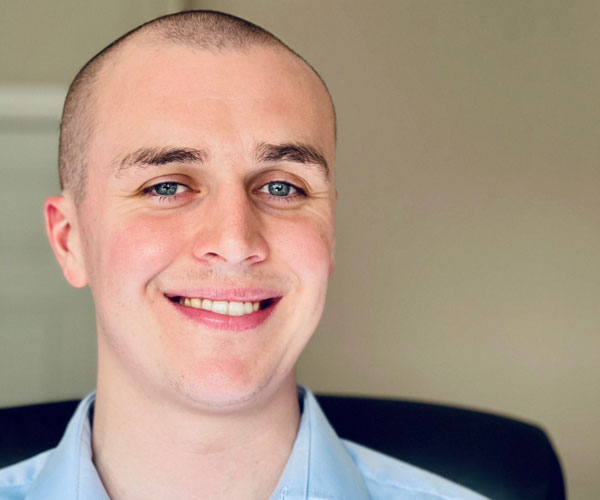 The course provided me with a solid understanding of the key environmental issues we are currently facing, whilst also highlighting key research areas and methods that have been undertaken in attempts to solve these problems. 
The course itself was a great transition from my bachelor's into the working world, further enhancing my interest in solving some of these environmental topics and concerns. It provided me with a range of technical skills that have been transferable towards an environmental consultant position and has also helped me to discover the key environmental area I wanted to peruse professionally — Flood Risk Research/ Consultancy. 
Following the course and my introduction to water resources and flood risk modelling by Andrew, I decided to apply and consequently secured a position as a Water Consultant for AECOM. On starting my position, I had already gained some fantastic technical skills during my master's which were used professionally straight away, such as GIS and data manipulation using Excel. 
As I was very interested in pursuing a technical career, the introduction of modelling software during the course — Flood Modeller, WEAP, Hec-Ras, & SWMM Software — provided me with a number of opportunities straight away, given my experience with modelling software and the need for modellers in the industry at present. 
One of the biggest impacts that the course and specifically the introduction to modelling software packages has had professionally is the exposure to a variety of industry-applied software. This has given me the confidence to work on projects using a variety of software packages.
Course units
1. Measuring and Predicting 1 (15 credits)

In this unit, you'll build a foundation of general skills relating to measuring and predicting pollutant mobility and transformation.

Learn why measurement is meaningful – through statistical significance, sampling methods and analytical techniques – and appreciate when and why prediction is required.

Understand general techniques of prediction based on comparison of measurements, relationships and models, and develop an understanding of the processes and vocabulary surrounding models.

A one-day virtual field trip and an introduction to the department's analytical facilities will give you practical training and reinforce theoretical concepts.

2. Measuring and Predicting 2 (15 credits)

Following on from Measuring and Predicting 1, you'll focus on the use of models to make predictions and aid the interpretation of measurements.

Get an introduction to the use of models in the environmental sciences, drawing on examples from current scientific literature. Discuss the merits and limitations of various approaches.

A series of lectures and practical sessions will showcase different models, and a combination of baseline simulations and sensitivity tests will help explain relevant computational models. You'll benefit from hands-on experience with different models, interpreting their output, and focusing on how they relate to the real world.

3. Human Impacts on the Biosphere (15 credits)

Understand how human activities cause change and damage to the biosphere through key topics including the environmental impact of resource extraction and use, agriculture and air pollution from road transport, and the effect of urbanisation on water resources.

Assess mitigation and management strategies such as monitoring and remediation (including bioremediation) and start using methods and approaches – from molecular to community level – to assess and predict human impact on ecosystems.

4. Pollution Management in Practice 1 (15 credits)

Using urban environment case studies and industry-standard software, develop advanced skills in environmental modelling and project management to support a simulated real-life science or consultancy project.

Build detailed knowledge and advanced modelling skills relating to topics such as flood prevention and mitigation in cities, flood risk impacts on mountain settlements, and water resource planning for future development.

Workshop sessions will focus on project planning, monitoring and reporting. Benefit from the opportunity to bring all your modelling knowledge together and present your solutions as a briefing note and video presentation.

5. Pollutant Mobility and Transformation (15 credits)

Understand the scope of pollution and its wider context, and the connections between natural processes and pollution. Get to grips with the concept of misplaced materials and misplaced people, and discuss particular types of pollution.

Learn about important concentration gradients that drive pollution, as well as methods to measure and predict their impact, quantified through consideration of organic and metal pollution.

Understand physical mobility as a result of diffusion and dispersion, and how to quantify it through water, sediment, groundwater, stream water and atmosphere.

Apply your knowledge during a virtual field trip, with the opportunity to make measurements, predict outcomes and validate your predictions.

6. Pollution Management in Practice 2 (15 credits)

Develop mathematical models to understand a simple environmental system, learn about data collection and examine environmental monitoring methods for water movement studies.

Use different techniques to analyse the natural processes of surface water runoff and groundwater, as well as the movement of water in rivers and on floodplains. Understand the importance of reservoirs and water transport, release and movement in urban areas.

Apply models using industry-standard software, learn to interpret output, and evaluate performance and parameters through sensitivity analysis to solve real-world problems.

7. Environmental Monitoring and Modelling (15 credits)

Select appropriate techniques for measuring environmental data and apply industry-standard software for hydraulic, river, water resource and glacier runoff modelling in a range of climatic zones.

Examine various measurement and modelling approaches and get hands-on experience with data analysis using GIS, applying models and interpreting model output.

Use different models to explore flood hydrology and the mechanism of flooding, including techniques to collect and analyse hydrometric data. Examine catchment flow dynamics using 1D and 2D numerical modelling.

Become familiar with climate change models, predicted impacts and global future megatrends, including population growth, urbanisation, climate change and the effect of these on society.

8. Environmental MSc Tutorial (15 credits)

Look at issues to consider when preparing for a research project, and how to apply these to your individual project.

A draft research proposal presentation and report prepare you for your official research proposal presentation and research project report at the end of your course.

Project (60 credits)

Independently undertake a research project, supervised by a member of our internationally-acclaimed research team.

Our research expertise spans a range of pollution and environmental control topics in relation to water, air, soil and ecosystems, as well as more general environmental hazards and global climate change. Our department was placed in the UK top six by the Research Excellence Framework (REF) 2021, and our standing creates a thriving research environment for our MSc students.

Choose to focus on a water or air pollution project.
The skills you will learn will be relevant to all areas of environmental science, whether within the industry or if you decide to pursue a higher research degree afterwards.
Research projects include training themed around fieldwork, lab work and advanced computing.
The water project will feature virtual labs and fieldwork conducted in an upper peat catchment in the Peak District.
The air project will feature virtual fieldwork in Manchester using our new, state-of-the-art 'air quality supersite' facility in Fallowfield, Manchester.
Water project computer training is in predictive numerical modelling tools.
Air project computing training is in machine learning applications for advanced data analysis.
Course structure
The MSc in Pollution and Environmental Control (online) consists of 180 credits, including 120 credits of taught units and 60 credits of individual research, and begins in September.
The online version of the course was designed to offer flexibility in its structure, to fit around different lifestyles and a range of commitments, so the course can be structured in various ways, depending on your specific needs:
Full-time: Study all course units across three semesters, and get your MSc in just 12 months.
Part-time by semester: Take a selection of course unit(s) for one complete semester. After that, take a break for one or more semesters before continuing with more units.
To be awarded the MSc, you must complete all units and the dissertation project (180 credits) within 60 months.
Knowledge and understanding
Explain the mechanisms by which pollution arises and is transmitted into the environment.
Define pollution and general approaches to its control, and use knowledge of dispersion and diffusion in predictive models of pollution.
Analyse and quantify the impact of pollution and resource utilisation on humans and the environment.  
Critique key research questions and examine and differentiate methodologies applied to pollution emission, mobility, transformation and damage. 
Apply mathematical models to describe simple environmental systems and investigate the problems they can help solve.
Use a range of qualitative and quantitative research methods and tools for research and be able to appraise the research process.
Evaluate policy instruments used to control resource use and waste generation and disposal to mitigate environmental impact.  
Intellectual skills
Understand the relationship between theory and its application to specific research environments and questions.
Analyse and synthesise environmental model output from different data formats and present results. Describe assumptions of different modelling approaches in environmental sciences.
Utilise a multidisciplinary approach, apply rigour to evidence-based problem solving and integrate knowledge to form a logical argument.   
Practical skills
Make measurements and critique the quality of those made by others.
Collect and record qualitative and quantitative data.
Select appropriate techniques for measurement and analysis of gases, aerosols, fluids, and solids by applying knowledge of how instruments work.
Evaluate the use of field and laboratory studies in understanding and solving environmental problems arising from human activities.
Professional transferable skills and personal qualities
Communicate effectively using a range of formats, and argue a case effectively.
Perform laboratory and fieldwork ethically and safely, demonstrating an awareness of the importance of risk assessment.
Demonstrate the interpersonal skills required of effective team members.
Operate independently, direct your own learning and manage your time.
Using content and materials for the on-campus version of this course, this version is delivered entirely online through a  virtual learning environment (VLE). It features a combination of delivery methods so you can work at your own pace and fit your study around existing commitments.
Online lectures, instructor-led online labs and computer practicals are supplemented with videos and reading lists that can be worked through at your own pace. Real-life connection complements this offer, with discussion forums, Q&A sessions and group tutorials.
Wherever you are in the world, you'll benefit from field study, with virtual field trips available online, including site information, field data and online audio and video guides to help you engage with the visit.
Library services
As a student with The University of Manchester, you will have full use of our extensive library services, including access to e-books and research journals.
You'll be assigned a dedicated study support advisor who will be your first point of contact for study-related questions and help with your virtual learning environment (VLE).
Admissions information
From your initial expression of interest right through to graduation, you'll receive all the support you need. We will guide you through the enrolment process and help with subject assistance, administrative logistics and fee options, online learning skills, workload management and special circumstances.
Regulated by the Office for Students
The University of Manchester is regulated by the Office for Students (OfS). The OfS aims to help students succeed in Higher Education by ensuring they receive excellent information and guidance, get high quality education that prepares them for the future and by protecting their interests. More information can be found at the OfS website.
You can find regulations and policies relating to student life at The University of Manchester, including our Degree Regulations and Complaints Procedure, on our regulations website.