The University of Manchester is three years into its partnership with the Kenyan government to help uplift the healthcare practices in the country based on models developed in Greater Manchester.
Through sharing our research, the University is also contributing to an ever-expanding knowledge base for the prevention, detection and treatment of cancer in Africa.
Incidence of non-communicable diseases (NCDs), including cancer, in Africa has surged over the past two decades and by 2030 NCDs are set to become the leading cause of death in the region.
With low numbers of oncologists, treatment facilities, allied healthcare professionals and a rural and dispersed population, Kenya was at a crossroads as to how to deliver its Vision 2030 – set as part of the Big Four Agenda in 2017 – which aims to transform the country into an industrialised middle-income nation with healthcare for all at its heart.
When I saw how healthcare was being delivered in Manchester, I knew that it could be applied more widely – it could become global Manchester.
From Manchester to Kenya
John Guto, a Kenyan nurse and postgraduate student, studying for his PGCert in Global Health at the University's Humanitarian Conflict and Response Institute, spotted an opportunity. Working in local hospitals while studying opened his eyes to how clinical work and research techniques could be combined and applied to improve standards of cancer care and treatment in Kenya.
He says: "When I saw how healthcare was being delivered in Manchester, I knew that it could be applied more widely – it could become global Manchester."
Guto identified similarities between Manchester's ethnically and geographically dispersed populations and those in Kenya. He saw how the methods and models for patients accessing services – and the services themselves – worked, along with the underpinning research helping to improve the clinical offering. When he heard that a new cancer hospital was being built in his county, he contacted the County Governor and suggested that the University might be able to help. While the hospital is being built, Manchester has offered its expertise to the existing Kenyatta University Teaching Referral and Research Hospital. From advising on purchasing equipment and how to operate machinery to training the workforce needed to deliver the clinical service, and guiding on research, the University is already playing a key role in the future of Kenyan healthcare.
Presidential approval
After a successful meeting between delegates from the University's Faculty of Biology, Medicine and Health and the Governor of Kisii, Guto's home county, the idea of Manchester supporting the Kenyan healthcare agenda was taken to the then President, Uhuru Kenyatta. The President was quickly convinced that Manchester could provide the guidance needed to support a national healthcare transformation.
"We realised that we were on to something when the room started filling up and they ran out of chairs, it was standing room only at the back," says Guto, reflecting on the successful meeting.
In 2021, the Kenya UK Healthcare Alliance was signed, facilitating healthcare interactions between the two nations, and became one of only a handful of healthcare partnerships between the UK and other countries globally.
With an initial focus on cancer care services, the alliance worked on plans to build an Integrated Molecular Imaging Centre and a comprehensive Breast Care Centre of Excellence, using Manchester research and models of treatment and detection.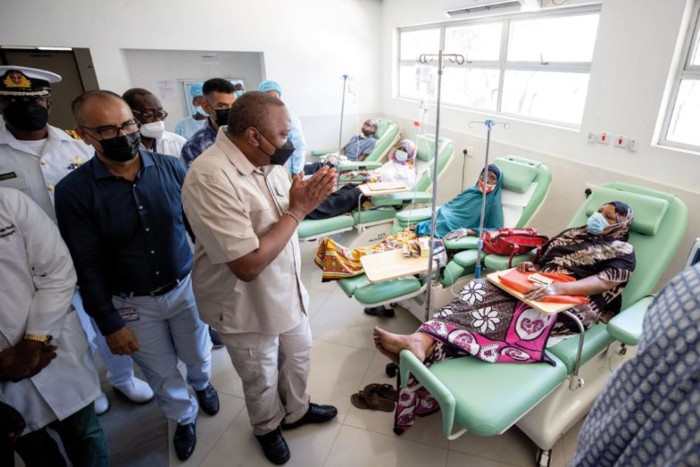 Everything we're doing is to help deliver Kenya's bold ambition. It's a moonshot for the country and the whole of east Africa. If we get it right, it could be emulated across the continent.
African cancers require African research
The majority of existing research that informs the management and treatment of cancer is based on people of European descent. African populations, environments and cancers are different and require African research.
Cancer is a specific problem for Kenya due to its prevalence and late-stage detection. For example, the country has one of the highest incidences of oesophageal cancer in the world, with an equally high mortality rate; 99.7% of people diagnosed with the disease will die from it.
Manchester researchers are partnering with Kenyan teams to build the evidence base for this specific cancer by looking at the causation of the disease in western Kenya and the Rift Valley. The three-year research programme aims to identify oesophageal cancer at a much earlier stage, offering better opportunity for interventions and treatments.
Alongside research, the partnership has delivered the first Integrated Molecular Imaging Centre in east Africa. Opened in January 2021, more than 2,500 people were screened for cancer at the facility in the first nine months. This has reduced the need to leave the country to seek treatment, keeping families together and retaining between 4 and 5 billion shillings in the Kenyan economy. Housed in a public hospital, the Kenyatta University Teaching, Research and Referral Hospital, the centre has been instrumental in levelling up cancer care.
The country's first comprehensive Breast Care Centre of Excellence has also opened, directly mimicking the service offered in Manchester. It has cut screening time for women with a symptomatic lump from up to nine months to just a day.
A Cyberknife has also been installed at the same public hospital, only the second on the continent. This precision radiotherapy technology is one of the most effective treatments for brain, lung and prostate cancer.
Inspiring the next generation of healthcare professionals
The World Health Organization (WHO) has predicted that there will be a 14.5 million deficit in healthcare workers by 2030, felt most in low- and middle-income countries. 42% of the deficit will be in Africa, and with it set to rise further, more pressure than ever is on the Kenyan healthcare system. Developing a resilient workforce of nurses, doctors, dentists and pharmacists with the skills to provide patient-centred healthcare for NCDs in the community is critical.
In February 2023, a cabinet memo was agreed by the Kenyan government to start developing healthcare schools at Kisii, Maseno, Masinde Muliro, Egerton, Bomet and Kibabii Universities in the coming years. The schools will play an integral role in supporting the next generation of healthcare professionals and the University is on board to guide with the design of the teaching rooms and curriculum development.
A blueprint for shared learning
Kenya is one of two African countries to sign a health partnership with the UK, but it is hoped that its success will be a catalyst for transforming healthcare delivery in other countries across east Africa. Together we're providing healthcare solutions led by Kenyan people for their own communities.
Guto concludes: "I see Kenya becoming a powerhouse for east Africa. The infrastructure, the political and academic support for this project is phenomenal. What we do here right now will be emulated right across Africa if we get it right. In ten years we'll point to Manchester on the map and say 'this is where it all started'."