Congratulations to our offer-holders!
We are delighted to have made you an offer to study Aerospace Engineering at The University of Manchester.
From tackling humanitarian crises to protecting the environment, engineers make a global impact. We are here to start you on your own journey as an aerospace engineer.
Accreditation
All our courses are accredited by the Royal Aeronautical Society.
Facilities
Our excellent facilities include wind tunnels and two fixed flight simulators.
Careers and employability
Supporting your future
Our graduates go on to a range of exciting careers including aerospace design, and development, testing and operation of vehicles and systems. Other areas include research, technical development and finance.
Employability rate: 90% (in work or further study within 15 months, source Graduate Outcomes Survey 2019)
Average salary: £28 000 (15 months after the course, source Graduate Outcomes Survey 2019)
VIDEO: After graduation...
Watch this video to hear about Khris's journey to becoming an aerospace engineer after finding his passion lay in UAVs and drones.
Aerospace graduate Adrian's career tips
Hear Adrian's great advice about finding the right career pathway for you.
Working at Jaguar Land Rover
Hear about how Chris got a graduate job at Jaguar Land Rover after completing his year in industry at the firm.
Learning and support
Your learning experience
Aerospace Engineering at Manchester
Hear from some current students and staff.
Find out more about the exciting opportunities a degree in Aerospace Engineering at Manchester brings.
Blended learning
Our teaching is enhanced by a blended approach, with 'on demand' content combined alongside real-time face-to-face activity.
Lecture content is provided in a variety of forms for you, such as videos, podcasts and presentations. We use Blackboard, our web-based virtual learning system, alongside Microsoft Teams and Zoom.
Your interactions with academics and fellow students are an incredibly important part of your learning. We use a variety of tools, including discussion boards and interactive online sessions, as well as tutorial sessions to support this.
What to expect in September
How the University is preparing for your start in September
Professor Peter Green talks to student Umber about the practical steps being taken to prepare you for study in September.
Your Manchester community
Umber and Peter discuss the benefits of a strong student community and look at how we will continue to support our students next year.
Developing our blended learning
As we develop our blended learning offering, Peter explains what this means and how it will benefit your student experience.
Student support
Support on your course
Peer Support and Peer-assisted Study Sessions (PASS).
PASS sessions offer you the opportunity to gain support, advice and help with your studies from students. These students have been in the same position as you, and are able to share their experience. They volunteer to provide a safe space where you can ask questions at any time throughout your year.
Hear more about PASS from Dominic, a PASS coordinator for Aerospace.
COVID-19 and your course
Providing high quality education
We know the last few months have been challenging and uncertain for us all.
Whatever happens next, you can rest assured that we'll adjust to any changes to public health guidelines while still providing a quality learning environment.
VIDEO: Meet one of your lecturers
Dr Ben Parslew, a lecturer in Aerospace Engineering, talks about his own studies and subsequent career path. He also discusses his teaching and research at the University.
VIDEO: Khris's journey to becoming an aerospace engineer
Hear from Khris, an aerospace graduate, about why he loves aerospace engineering and where his degree has led him.
Welcome to MECD
A new home for engineering in the birthplace of the Industrial Revolution.
The new Manchester Engineering Campus Development will be the single largest home for engineering in any UK university. Within the walls of this new campus, you will be able to enjoy innovative learning spaces and modern facilities that will enhance your university experience.
Events for offer-holders
Virtual tour of the Department
Get an idea of what our Department is like by taking a virtual tour and hearing from some of our students and staff.
Contact us
Get in touch
Our admissions staff are here to answer any questions you have.
Email: ug-mace@manchester.ac.uk
Social media
Your course
Courses within this subject area
Remind yourself how much your course at Manchester has to offer you.
Follow the relevant link for details about the course you have an offer for:
Beyond your subject
Visit our offer-holder guide to university life
Your university experience is about more than your degree.
Find out where you could live, how we'll support you, what financial packages are available and how we'll help you develop the distinctive attributes of a Manchester graduate.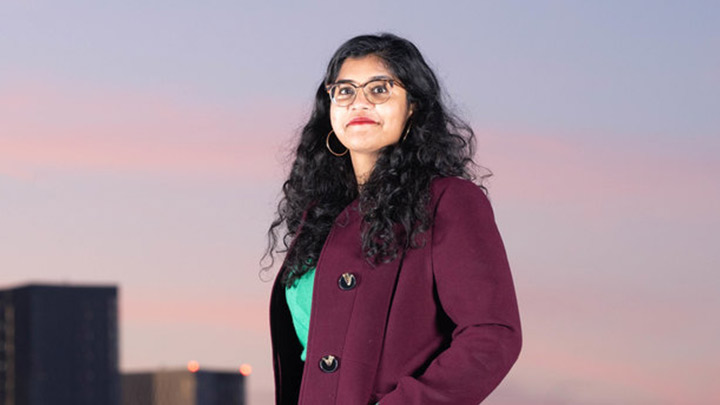 Accept your offer
This is your future
Log on to UCAS Track to accept or keep track of your offer.
This is how we'll keep in contact with you about what stage your offer is at. It's also where you can accept your offer and make Manchester your first choice for your future.