Your place at Manchester
Congratulations on your offer of a place on a biosciences course at Manchester.
Choose Manchester and you'll benefit from world-class teaching from experts across a wide range of areas of bioscience.
7th in the UK for biosciences (QS 2023).
A wide range of UK and overseas placements.
Your Biosciences experience at Manchester
Do more at Manchester
Studying biosciences is a great way to explore your interests and prepare for an exciting array of careers.
You'll benefit from excellent facilities and different ways to gain experience outside of lectures.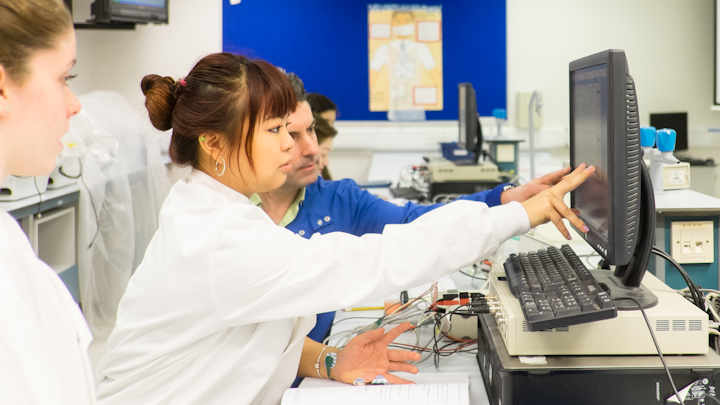 Tour our facilities
VIDEO: Follow student Tom on a tour of the biosciences facilities at Manchester.
Talking Science: Circadian lighting
VIDEO: Hear student Grace talk about research into the impact of electric light on our bodies.
Events
Find out more about Manchester
As an offer holder, you have the opportunity to learn more about life at Manchester through our events and tours.
Once you've received an offer from us, you'll get an email with a link to book on to one of our on-campus or online events for offer holders.
These events will include an information session, a student-led campus tour (excluding accommodation), and practical demonstrations in our teaching labs.
You and your parents or guardians will be able to find out more about the course you've applied for, the University and the city. You'll have the chance to talk to staff and students, and see some of the great facilities available on campus.
Dates
14 February 2024 (1pm to 4pm)
28 February 2024 (1pm to 4pm)
13 March 2024 (1pm to 4pm)
17 April 2024 (1pm to 4pm)
8 May 2024 (1pm to 4pm)
You'll be able to book on to a separate accommodation tour taking place on the mornings of the offer holder events on the following dates:
14 February
28 February
13 March
17 April
These tours are run by the Accommodation Office and can be booked through the accommodation tours online form.
If you are unable to attend an on-campus offer holder event, you can book on to an online event with our admissions team and student ambassadors instead. This will include an information session followed by a Q&A.
Dates
21 February 2024 (10am to 12pm)
24 April 2024 (10am to 12pm)
A student-guided campus tour can be booked for a date that suits you. Please email us to book a tour.
Your course
Courses within this subject area
Remind yourself how much your course at Manchester has to offer you.
Follow the relevant link for details about the course you have an offer for:
Study options
Many of our BSc courses are available with a variety of four-year study options.
Your next steps