Your place at Manchester
Congratulations on your offer of a place on a dentistry course at Manchester.
Choose Manchester and you'll train as a dentist or dental hygienist at one of the largest UK dental schools.
Join our pioneering community and shape your future in dentistry at Manchester.
Top 5 in the UK for dentistry (QS 2020).
99% of graduates in work or further study after six months (Discover Uni 2019).
Learning and support
Your learning experience
A blended experience
We've worked hard to ensure our students have a rich learning experience even with the challenges posed by the pandemic.
You'll develop your dentistry knowledge while gaining practical experience in a range of environments throughout your course, giving you the skills you need to work in the field.
Explore your interests
Enhance your BDS degree by studying another subject between Years 2 and 3.
Choose from BSc courses in a range of relevant bioscience and healthcare subjects.
Dentistry facilities tour
VIDEO: Final year Dentistry student Edward gives a tour of the University's dentistry facilities.
Make a difference
VIDEO: How you can practice your skills in community outreach clinics, helping those most in need.
Student support
Support on your course
You'll have access to support through both your course and wider University services.
Student societies and our peer-assisted student support scheme will also enable you to connect with fellow students.
Learn about university support
COVID-19 and your course
Responding to change
We know the last few months have been challenging and uncertain for us all.
Whatever happens next, you can rest assured that we'll adjust to any changes to public health guidelines. Student wellbeing is of the highest priority to us.
Adapting our teaching
Below are examples of how we've adapted our teaching while restrictions are in place.
All symposia, small group teaching and end of year examinations were transferred to remote access via Zoom and our online learning platform, Blackboard, in March 2020.
This has proved to be so successful that certain elements of teaching have continued to take place online.
We emphasise the acquisition of academic knowledge at the beginning of the course. It is more heavily weighted towards developing clinical skills in later years.
This means that we are currently prioritising clinical experience for Year 4 and 5 students. We also ensure social distancing, PPE and deliver remote seminars in advance of clinical sessions. Students are also grouped into bubbles of six. They enter and leave the classroom on a staggered basis.
Year 5 clinical students have all been fit mask tested and, in addition to classroom skills sessions, have been seeing aerosol-generated procedure (AGP) and non-AGP patients under the close supervision of a member of staff. Both Years 4 and 5 attend oral surgery, oral medicine and other clinics.
Year 5 students have been undergoing preparation for entry to practice in 2021 sessions, with an emphasis on communications skills and problem solving. Practice sessions have involved the assistance of Year 4 students as patient actors.
From January, we will be able to increase the number of clinical sessions, and the younger clinical years will be introduced to refresher clinical skills teaching.
The course is delivered through lectures, symposia and small group teaching, all of which have continued virtually during the pandemic.
Year 3 clinical students have all been fit mask tested, and are seeing aerosol-generated procedure (AGP) and non-GP patients, continuing to learn and practice their clinical skills.
Year 2 students have continued with their clinical skills training and are currently being fit mask tested in anticipation of going onto clinics in the second semester.
Both Year 2 and 3 students attend the radiography department individually. Year 3 are attending Oral Medicine on a rota basis, but are observing only. Year 2 and 3 students will return to the clinics in bubbles from January.
Whenever students are on site, they work in bubbles of six to eight students, entering and leaving the classrooms on a staggered basis. All sessions adhere to strict social distancing rules and the use of PPE.
By conscientiously adhering to these conditions, Year 1 students will be able to start their basic clinical skills training in the second semester.
How COVID-19 affected my course
BLOG: Sophia talks about studying dentistry during the first lockdown of 2020.
The benefits of online learning
BLOG: How three Manchester students have adapted to online learning.
How the BDS has evolved during COVID-19
BLOG: Chow Pang talks about how the Dentistry course has changed during the pandemic.
Events for offer holders
Explore our events
Our online events for offer holders will help you make the right choice.
You can watch recordings of previous events below.
Offer holder webinar: course overview
VIDEO: View a recording of our webinar for offer holders from 5 May 2021.
Offer holder webinar: Q&A
VIDEO: View a recording of our webinar for offer holders from 5 May 2021.
Contact us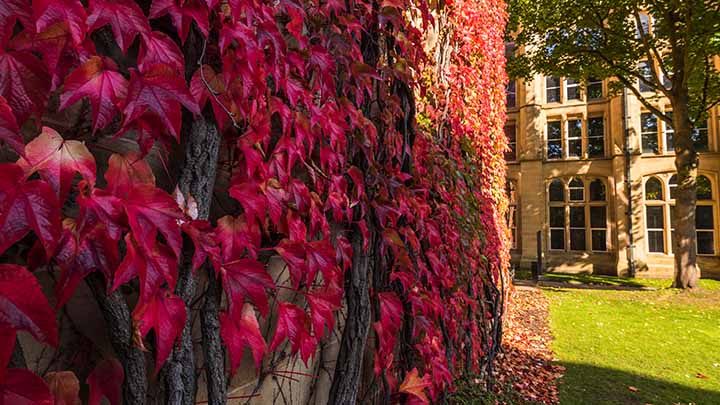 Join our Facebook group
Connect with other offer holders and current students through our Facebook group.
Get to know your fellow Manchester students and ask any questions you may have about the course. You should have received a password for the group by email.
Your course
Your course
Courses within this subject area
Remind yourself how much your course at Manchester has to offer you.
Follow the relevant link for details about the course you have an offer for: