A message to our offer-holders
Congratulations on your offer of a place on a Mathematics course at Manchester.
You will be following in the footsteps of world-changing Manchester mathematicians, including 'the creator of modern computing', Alan Turing. You will also unlock a wide range of opportunities to connect with potential employers to shape your future and make a real difference with your degree.
Study at one of the UK's top 10 universities for Mathematics (THE World Rankings 2021).
Take advantage of our outstanding facilities, including the purpose-built, £43 million Alan Turing Building.
Learning and support
Your learning experience
Studying Maths at Manchester
Discover more about your new Department.
A taste of our teaching
Discover a glimpse of some of our teaching with a recording of this Maths Limits tutorial with Dr Steven Broom.
Meet the Department
Get to know some of the academics in the mathematics departments.
Student support
Support on your course
From your own personal academic adviser, our mathematics student Peer Assisted Study Sessions (PASS) scheme and ways to look after your health and wellbeing, we're here for you. Always.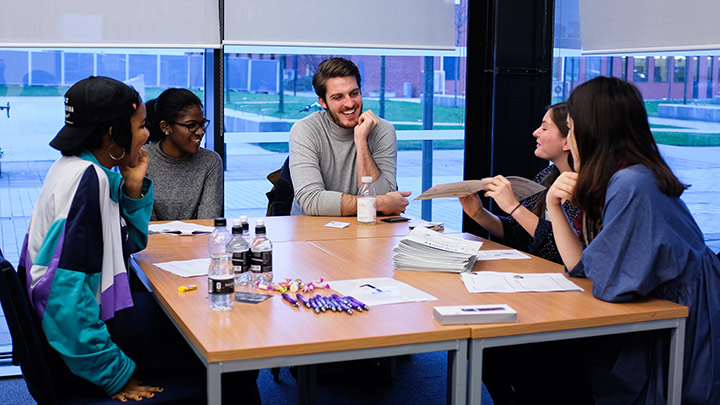 Your health, wellbeing and safety
Having welcomed our staff and students back to campus this year, find out how our University is keeping everyone as safe as possible.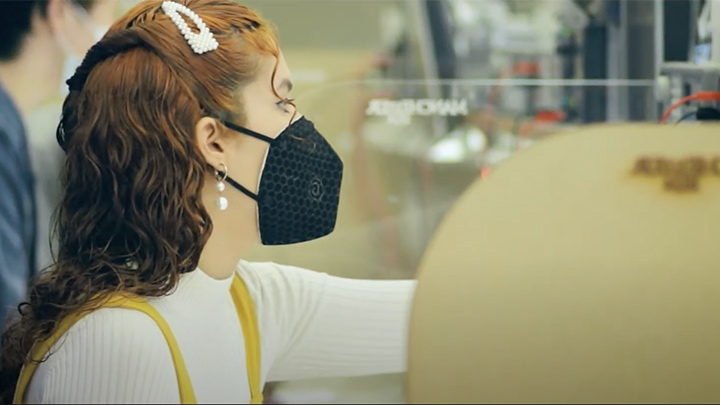 Scholarships
Everything you need to know about student finance, and the funding available to you as an undergraduate student in the Department of Mathematics
Student Life at Manchester
Student Life at Manchester
Explore what student life is like when you study at The University of Manchester.
The city of Manchester has an amazing student social scene, there truly is something for everyone here. There are also plenty of student societies to get involved with to explore your interests and make new friends. Get a flavour for student life at Manchester.
Why I chose Manchester
"When I first visited the Alan Turing Building I was impressed with the modern, airy building.
My other favourite thing is the pastoral care and support on offer. Even though the Department is very large everyone is treated like an individual."
Erin Hales, BSc Mathematics.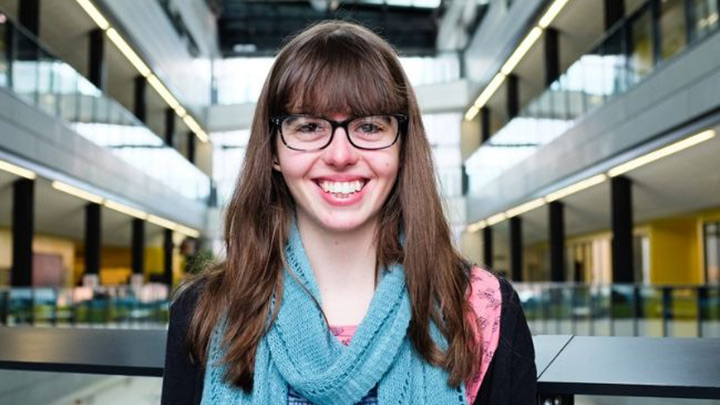 VIDEO: What makes Manchester special?
Our students tell us what their favourite things about Manchester are, including the University, campus, student community and city.
MathSoc
MathSoc organises social, professional and educative events for all students on Maths-related courses.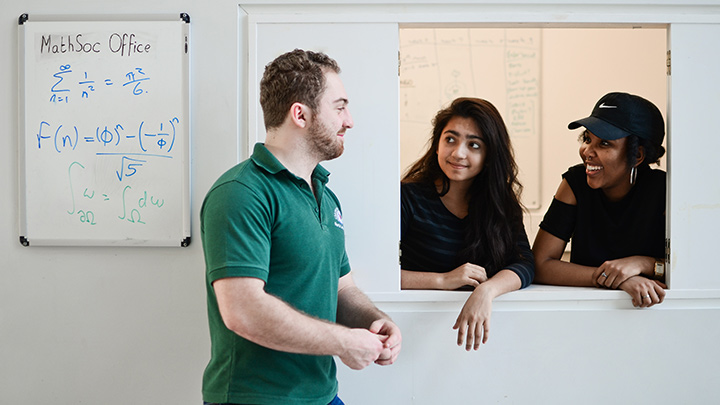 Careers and employability
Supporting your future
Mathematicians are in high demand across a range of sectors. Our graduates land roles in every imaginable industry, from fashion and pharmaceuticals to investment banking. Jonathan Ferns, our Employability Tutor, talks about our placement scheme and how we prepare you for your future career.
Employability: 85% (Graduate Outcomes survey 2019)
Average Salary: £27,281 (Graduate Outcomes survey 2019)
Events for offer-holders
Parents and carers event
Watch a recording of our recent parents / carers and supporters session for courses within the School of Natural Sciences.
This session was directed at parents/carers and supporters to find out more information and ask questions about your chosen course and the University.
Mathematics on demand
Revisit your Mathematics session from the recent virtual undergraduate open day.
Your course
Courses within this subject area
Remind yourself how much your course at Manchester has to offer you.
Follow the relevant link for details about your course, including the modules, teaching methods, assessments and reading lists:
Joint programmes
Find out more about your complimentary subject area.
Joint programmes can bring broader experiences. If your joint programme crosses into another subject area, find out more about what it offers:
Contact us
Accept your offer
Track and accept your offer
Ready to take the next step and confirm your place at Manchester? Visit UCAS Hub to accept your offer.