Your place at Manchester
Congratulations on your offer of a place on the Optometry course at Manchester.
Choose Manchester and you'll learn at the cutting edge of optometry, preparing you for a career in the field.
Your degree will give you great opportunities to both shape your future and make a difference to people's lives.
£4 million optometry facilities on campus.
Get clinical experience in one of Europe's leading eye hospitals.
Learning and support
Your learning experience
A blended experience
We've worked hard to ensure our students have a rich learning experience despite the challenges posed by the pandemic.
You'll still benefit from opportunities to develop your clinical skills while building your scientific knowledge. We continually update our courses in line with the constantly evolving role of the optometrist.
Integrated master's option
Our undergraduate MSci is a fully-registerable qualification.
It allows you to graduate with a Master in Science degree and be fully qualified to practice after four years. You won't need to undertake the pre-registration year.
Optometry facilities tour
VIDEO: Year 2 student Suman gives a tour of the facilities available to optometry students.
My placement at the Royal Eye Hospital
VIDEO: Ahmad talks about spending a week at the Royal Eye Hospital in Manchester as part of the optometry course.
How I became an optometrist
BLOG: Amelia talks about going from study to becoming a qualified professional.
Student support
Support on your course
You'll have access to support through both your course and wider University services.
Student societies and the peer-assisted student support scheme will also enable you to connect with fellow students.
Learn about university support
Optometry student support
There are many ways to seek support as an Optometry student.
Watch Dr Niall Mcloughlin talk about academic advisors, peer support and the Optometry Society.
COVID-19 and your course
Providing a high-quality education
We know the last few months have been challenging and uncertain for us all.
We hope to see you in person in September if everything is well. Whatever happens next, we'll adjust to follow government guidelines while maintaining a quality learning environment.
Events for offer holders
Explore our events
Our UCAS applicant days will help you make the right choice.
We'll also hold online events where you can ask us any questions you may have before accepting your offer.
Guest lecture series
See our upcoming topics, and explore our previous events on demand.
Contact us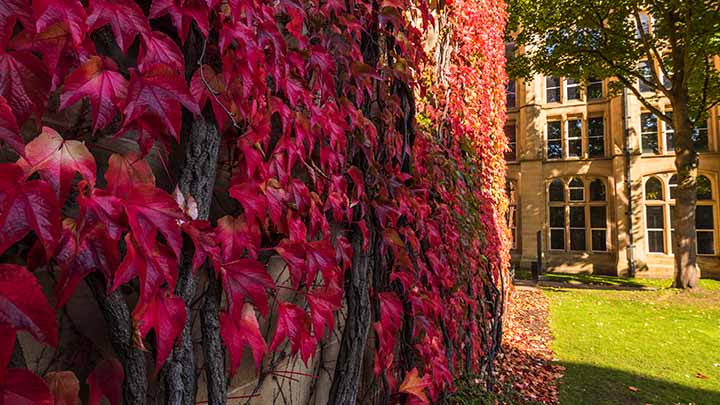 Join our Facebook group
Connect with other offer holders and current students through our Facebook group.
Get to know your fellow Manchester students and ask any questions you may have about the course. You should have received a password for the group by email.
Your course
Courses within this subject area
Remind yourself how much your course at Manchester has to offer you.
Follow the link for details about your course: