Your place at Manchester
Congratulations on your offer of a place on a biosciences course at Manchester.
Choose Manchester and you'll benefit from world-class teaching at a time when scientific expertise is of paramount importance.
Your degree will give you great opportunities to both shape your future and make a difference to people's lives.
7th in the UK for biosciences (QS 2020).
A wide range of UK and overseas placements.
Learning and support
Your learning experience
A blended experience
We've worked hard to ensure our students have a rich learning experience even with the challenges posed by the pandemic.
Many of the things that make our biosciences courses distinctive are still in place, such as our flexible first year.
Careers in biosciences
See how a biosciences degree can help you develop skills for a range of careers, including research, conservation, education, clinical trials and communication.
Student support
Support on your course
Biosciences at Manchester is an active community that welcomes students from all over the world.
You'll make friends through biosciences society activities and get support in your studies from older students through our peer-assisted student support scheme.
Learn about university support
Academic advising
You'll have an academic advisor who you can turn to if you ever need support.
Every student is assigned an academic advisor when they arrive. Your academic advisor is the person who will support you throughout your studies.
Our academic advisors provide student support in a number of areas.
Academic - They will discuss your academic progress with you and offer advice on where and how you can improve your work. They can also provide guidance on course unit choices.
Pastoral - Your advisor acts as a first point of contact if you are experiencing personal difficulties, such as financial or medical issues. They can signpost you to the correct support services, both at the University and outside.
Employability - Your advisor will discuss your future career plans with you and provide a reference.
You will get to know your advisor through the regular group tutorial sessions we run in Year 1. You will also have two individual meetings each semester.
These meetings allow you to discuss your academic progress, interests and career aspirations. Together, you will be able to identify any help that you need and set goals.
If you need advice between these organised meetings, you can contact your advisor to arrange a meeting.
We also have a team of Senior Academic Advisors. They are there to support our academic advisors and provide additional support to those students facing challenging times.
Our Senior Academic Advisors can help students to access appropriate support services at the University.
COVID-19 and your course
Responding to change
We have made changes to biosciences course delivery this year, with most teaching moving online.
We hope to see you in person in September if everything is well. Whatever happens next, we'll adjust to follow government guidelines while maintaining a quality learning environment.
The benefits of online learning
BLOG: Three students talk about adapting to a new way of learning on their course.
Our COVID-19 research
Biosciences researchers at Manchester are part of the effort to understand COVID-19 and its impact on our health.
Events for offer holders
Explore our events
Our online events for offer holders and parents/guardians will help you make the right choice.
You can ask us any questions you may have before accepting your offer.
Offer holder webinar recording
VIDEO: Watch a recording of our webinar for offer holders.
Parents and supporters event recording
VIDEO: Watch a recording of an event for parents and supporters of offer holders.
Careers and alumni Q&A event recording
VIDEO: Watch a recording of our careers and alumni Q&A webinar.
Contact us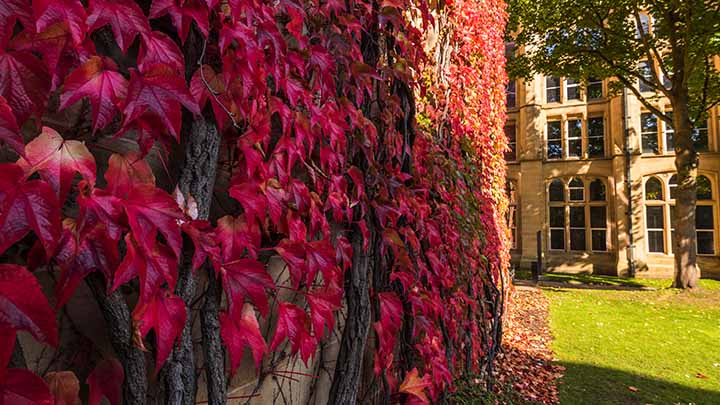 Join our Facebook group
Connect with other offer holders and current students through our Facebook group.
Get to know your fellow Manchester students and ask any questions you may have about the course. You should have received a password for the group by email.
Your course
Courses within this subject area
Remind yourself how much your course at Manchester has to offer you.
Follow the relevant link for details about the course you have an offer for:
Study options
Many of our BSc courses are available with a variety of four-year study options.
Related subject areas for joint programmes
Find out more about the complementary subject area for your programme.
If you hold an offer for our Cognitive Neuroscience and Psychology programme, you may also want to explore our psychology subject area: